Airtel India CEO Gopal Vittal has revealed that the company has added 11 million plus 4G subscribers in the December quarter as the telecom operator made significant investment in data networks.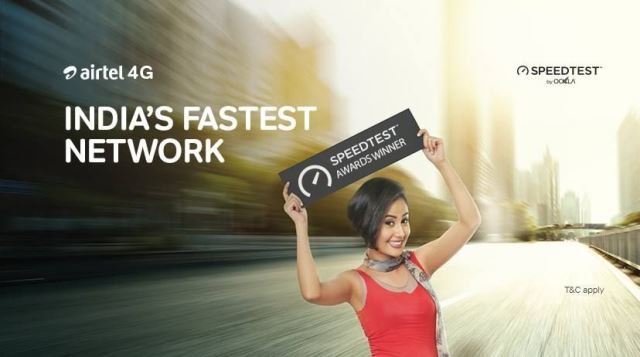 Mobile 4G data customers increased 112 percent to 77.1 million in Q3 fiscal 2018-19 from 36.4 million in Q3 fiscal 2017-18. Mobile data traffic of Airtel India has almost tripled to 3,217 billion MBs.
Airtel has deployed 24,000 broadband sites during the third quarter of fiscal 2018-19 as part of its strategy to expand coverage and improve customer experience.
"Our simplified product portfolio and premium content partnerships have played out well during the quarter, translating into one of our highest ever 4G customers additions of 11 million plus," Gopal Vittal said.
Airtel India Capex
Airtel India has lowered its Capex by 11 percent to Rs 5,309 crore. The Capex of Airtel India during the nine months rose 4 percent to Rs 20,079 crore.
Airtel India's capital spending reached Rs 3,727 crore (–24 percent) in mobile services, Rs 239 crore (–26 percent) for fixed broadband and Rs 327 crore (+38 percent) in DTH business during the December quarter.
Airtel India has 175,300 network towers vs 163,808 network. Airtel India has 164,859 mobile broadband towers. The company has 371,562 mobile broadband base stations as compared to 259,002 mobile broadband base stations at the end of the corresponding quarter last year and 347,642 at the end of the previous quarter.
India revenue
Airtel India revenue dropped 2.3 percent to Rs 14,768 crore. Mobile revenues fell 4 percent due to sustained pricing pressure in India. Digital TV revenue rose 7.1 percent. Airtel Business revenue grew 10.9 percent.
Mobile ARPU for the third quarter was Rs 104 as compared to Rs 123 in the same quarter last year. The third quarter has witnessed a sequential increase in ARPU after 9 quarters of consecutive decline.
Mobile voice traffic of Airtel India has increased 42 percent to 703 billion minutes.
Airtel India's DTH customer base crossed the 15 million mark with revenue growth of 7.1 percent.
Airtel India has achieved gross ARPU of Rs 104 in Q3 fiscal 2018-19 vs Rs 100 in Q2 fiscal 2018-19.
Airtel India has achieved EBITDA of Rs 4,115 crore vs Rs 5,769 crore. Airtel India EBITDA margin was 27.9 percent vs 37.7 percent.
Airtel Africa
Airtel Africa revenue grew 11.2 percent led by growth in data and Airtel money transaction value.
Mobile data traffic rose 61 percent to 105 billion MBs. Data customers grew 25.5 percent to 29.3 million from 23.3 million.
Airtel Africa'a Money customer base increased to 13.8 million, boosting the total transaction value on Airtel Money platform by 29 percent to $ 6.9 billion.
EBITDA margin of Airtel Africa improved 1.7 percent to 37.2 percent.
Airtel's consolidated revenues rose 1.9 percent to Rs 20,519 crore. Consolidated mobile data traffic tose 183 percent to 3,332 billion MBs.
EBITDA fell 16.9 percent to Rs 6,307 crore with EBITDA margin of 30.7 percent in the quarter. EBIT dropped 69.9 percent to Rs 813 crore. Net income dropped to Rs 86 crore from Rs 306 crore.