Bharti Airtel has ended the year 2018 with 340.26 million subscribers for 28.93 percent share at the end of December, the latest TRAI report indicates.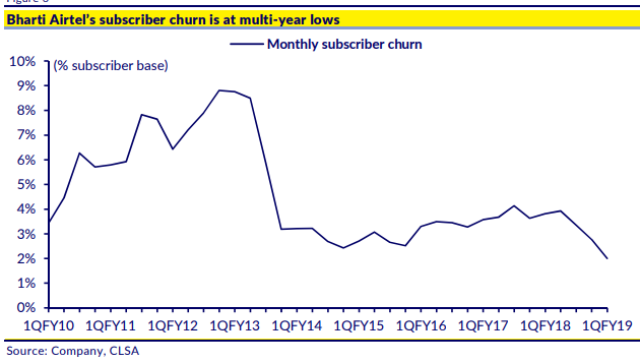 This compares with Airtel's 290.11 million mobile phone subscribers in 2017. Reliance Jio started 4G operations in September 2016.
Airtel has 168.63 million mobile phone subscribers — or 49.56 percent of the company's total subscribers — in rural India, commanding 31.91 percent share in 2018.
In 2017, Airtel had 147.89 mobile phone customers in rural India – indicating 29.64 percent share in rural areas.
Airtel has 133.941 million mobile Internet customers with 22.17 percent share in 2018. Airtel has 107.07 million broadband customers including 2.27 million wired broadband users.
This compares with Airtel's 98.636 million Internet subscribers with a market share of 22.12 percent. Airtel India had 71.091 million broadband subscribers in the country.
Airtel has ended last year with 79,604 VSAT customers. This compares with VSAT user base of 72,933 with 26.83 percent share in 2017.
Airtel investment
Airtel has 2G, 3G and 4G networks in India. Airtel's 4G customer base reached 77.1 million in 2018.
Airtel has also started investing in advanced 4G technology in preparation of 5G. Airtel's network towers reached 175,300 in 2018 as compared to 163,808 network towers in 2017. Airtel had 164,859 mobile broadband towers.
The company had 371,562 mobile broadband base stations in 2018 as compared to 259,002 mobile broadband base stations in 2017.
Airtel's investment in telecom network has assisted the telecom operator to improve quality of services to its mobile phone customers. Airtel's spending towards Capex reached Rs 3,727 crore in the December quarter of 2018, primarily to enhance its mobile data network coverage. In addition, Airtel invested Rs 239 crore towards boosting its wired broadband coverage.
Ookla said Bharti Airtel's average pan-India download speed increased to 10.34 Mbps from 10.15 Mbps in H1 2018.
Tutela said Bharti Airtel is the download speed leader with an average speed of 8.6 Mbps in India. Airtel's LTE availability reached 84 percent, Tutela said.
TRAI's independent drive tests in 69 cities and towns indicate that Bharti Airtel leads on download speeds with a weighted-average download speed of 8.3 Mbps.
Opensignal's speed test during Kumbhamela, a religious event, has showed that Airtel India's mobile data speed is significantly better than Reliance Jio and Vodafone Idea.
Rohit Chordia and Aniket Sethi at Kotak Equity Research in a recent report said the result of the network performance tests suggests improvement in Bharti Airtel's average data speeds. The report indicated that network experience will overtake pricing as the primary driver of incremental LTE subscribers and usage share.
Baburajan K