Airtel has offered the fastest 4G Internet speed to its smartphone customers in India during Q3-Q4 2018, according to the latest Ookla report.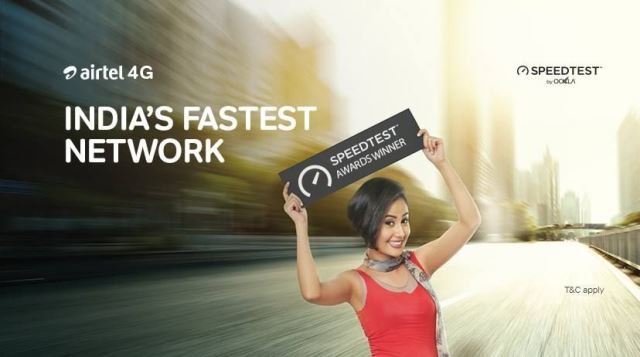 Airtel had the fastest 4G LTE speed in India during Q3-Q4 2018 with a Speed Score of 11.23 Mbps. Airtel has 77.06 million 4G subscribers on its 4G network across the country as on 31 December 2018. The total mobile data customer base of Airtel was 107 million plus in 2018.
Airtel is grabbing the top position in 4G position thanks to its investment program. Airtel had 175,300 network towers in December 2018 vs 163,808 network towers at the end of 2017. Airtel has 164,859 mobile broadband towers and 371,562 mobile broadband base stations.
Vodafone is in second position as its 4G subscribers enjoyed an average Internet speed of 9.13 Mbps. Vodafone Idea has slashed its investment in network substantially due to the ongoing integration and delay in finalizing its technology vendors.
Reliance Jio is in the third position when it comes to 4G speed to its phone customers in India. Reliance Jio is the largest 4G network operator if combine their smartphone and feature phone customers. Jio did not reveal the Capex for 2018.
Idea Cellular is in the fourth position in terms of 4G speed. The report said the combined Vodafone Idea entity would improve their ranking. But it will still be behind Airtel and Jio in terms of availability due to gap in networks.
Reliance Jio has ranked first with 98.8 percent 4G availability. Jio is followed by Airtel at 90.0 percent and Vodafone and Idea with 84.6 percent and 82.8 percent respectively, across 15 largest cities of India.
Jio's 4G network general availability was best, with users finding service in 99.3 percent of locations, the report said. Airtel was second at 99.1 percent, followed closely by Vodafone at 99.0 percent and Idea Cellular at 98.9 percent.
Ookla analyzed general availability of data network and 4G availability using coverage data from 250,138,853 samples on 595,034 enabled devices during Q3-Q4 2018.
Airtel showed general availability of 99 percent or higher in India's 15 largest cities. Jio's lowest score (in Jaipur) was 98.9 percent. Vodafone's only score below 99 percent was in Kolkata (97.9 percent).
Idea Cellular has showed general availability scores below 99 percent in six cities such as Hyderabad (98.8 percent), Delhi (98.3 percent), Jaipur (98.0 percent), Kolkata (97.9 percent), Visakhapatnam (97.9 percent) and Indore (96.6 percent).
Baburajan K