The latest Opensignal research shows that Chennai is the leading city in terms of speed for video streaming during the ongoing IPL cricket matches in India.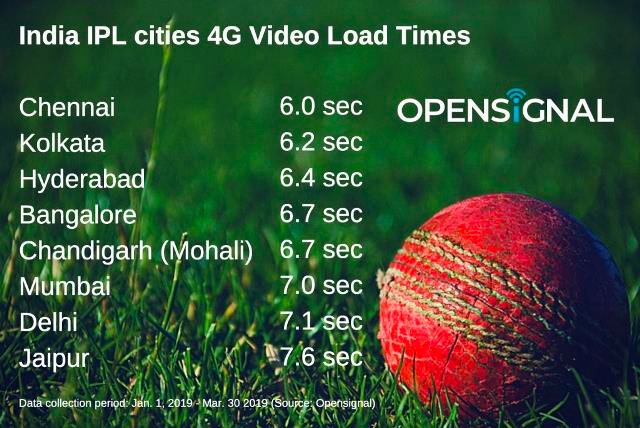 Main 4G operators in India include Bharti Airtel, Vodafone Idea and Reliance Jio. Bharti Airtel has been ranked top in several mobile data speed tests conducted by independent agencies.
4G Video Load Time, which measures the average time taken for a mobile video to load, in Chennai was 6 seconds as compared with 6.2 seconds in Kolkata, 6.4 seconds in Hyderabad, 7 seconds in Bangalore and Chandigarh, with Mumbai, Delhi and Jaipur bringing up the tail.
Opensignal has analyzed 50 of India's biggest cities and ranked them based on 4G Video Load Time. This metric measures the average time taken for an initial video buffer to load and for the picture to start moving, in seconds.
Of the 50 cities, Thiruvananthapuram, the capital city of Kerala, came top with 4G Video Load Time of just 5.8 seconds, pushing Chennai into second place. Vasai-Virar and Kota achieved 4G Video Load Time scores of over 8 seconds.