T-Mobile is leading the LTE speed test report announced by Ookla during the third quarter of 2018.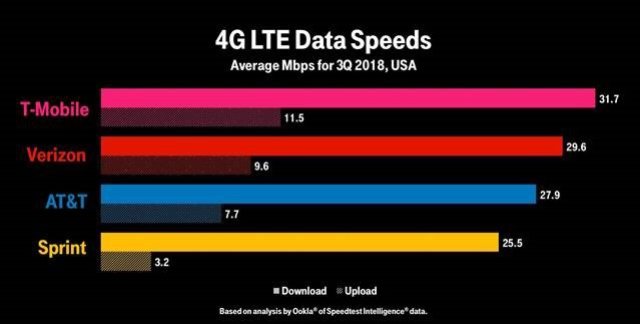 T-Mobile is ahead of Verizon, AT&T and Sprint in terms of both download and upload speed on LTE network.
T-Mobile LTE network clocked 31.7 Mbps download speed and 11.5 Mbps upload speed on its mobile network.
Verizon delivered 29.6 Mbps download speed and 9.6 Mbps upload speed.
AT&T customers experienced 27.9 Mbps download speed and 7.7 Mbps upload speed on its LTE network.
Sprint delivered 25.5 Mbps download speed and 3.2 Mbps upload speed on its LTE network in US.
T-Mobile said it delivered the fastest LTE upload and download speeds for the 19th quarter in a row.
John Legere, CEO of T-Mobile, said: "Fast speeds mean customers can do more of what they love. We've built the company – and our network – around delivering the best experience to customers, and we won't stop."
Ookla collects data from wireless customers using the Speedtest app on smartphones. These results show what wireless customers across every major network are actually experiencing.
T-Mobile has already expanded the coverage of its 600 MHz Extended Range LTE network that is now available in more than 1,250 cities and towns across 36 states. The deployment of 600 MHz LTE lays the foundation for nationwide 5G in 2020 with 5G ready equipment.