The launch of 5G services by Etisalat, Ooredoo, STC and Zain in their home markets of UAE, Qatar, Saudi Arabia and Kuwait will assist 5G to boom in the Gulf region in coming years.

Oman, Turkey and Jordan, the other main telecom markets in the Middle East, are expected to deploy 5G in 2020 and 2021, GSMA report indicated in 2018.
5G will account for 6 percent of total connections in the Middle East and North Africa region by 2025, well below the global average of 15 percent.
5G will account for 16 percent of total connections in GCC Arab States by 2025, slightly above the global average of 15 percent. Migration to 5G is expected to proceed at a much slower pace than that of 4G, since subscribers are less likely to migrate to expensive 5G service.
The lack of cost-effective 5G smartphones are impacting the growth of the 5G industry in the region.
5G launch in North African countries is not expected until 2022. The adoption of 5G in North African countries will be well behind other parts of the region.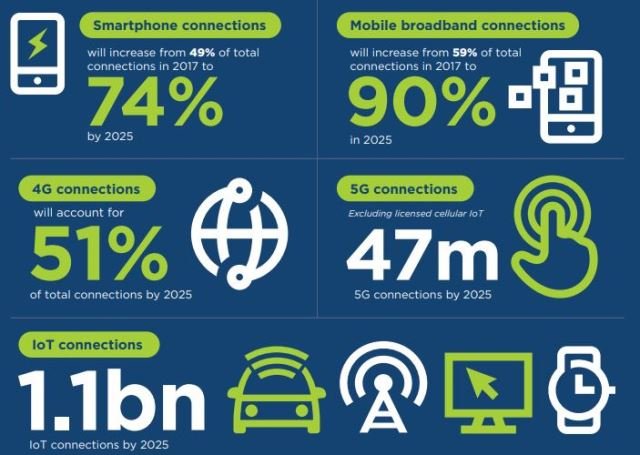 Some operators' 5G launches will assist Capex to grow by $34 billion between 2018 and 2020. 4G coverage across the MENA region is below 60 percent.
GSMA said the number of IoT connections across the MENA region will triple between 2017 and 2025, reaching 1.1 billion. Currently, the consumer and industrial IoT segments have equal shares of total IoT connections. But industrial IoT will achieve more growth due to an increase in smart utilities, smart retail and smart city deployments.
IoT revenue in the MENA region will increase at an average annual rate of 19 percent to 2025 to reach $55 billion. Applications, platforms and services account for the largest share of IoT revenue and will grow as mobile operators continue to deploy different strategies and business models to move beyond offering connectivity only.

Mobile operator revenue is likely to grow as more countries roll out or expand 4G networks and mobile operators continue to monetise growth in data traffic. The revenue growth will be modest though – a CAGR of 1.8 percent between 2017 and 2025.
Middle East and North Africa (MENA) region had 381 million unique subscribers by mid-2018, accounting for 64 percent of the population. MENA remains the second least penetrated region in the world.


The mobile ecosystem in the MENA region has supported more than 1 million jobs — 300,000 direct and 800,000 indirect jobs — in 2017 and 5G investment will enhance job opportunities.