China has granted 5G spectrum licenses to China Mobile, China Unicom and China Telecom, as well as China Broadcasting Network.


The above chart prepared by GSMA Intelligence indicates that 5G adoption in China will be 25 percent in 2025 as compared with 14 percent for the global average.
The approvals will boost investment in the 5G infrastructure which will benefit top vendors such as Huawei Technologies, Reuters reported.
China Mobile, China Unicom and China Telecom have received trial 5G licenses at the end of 2018 and Thursday's announcement gives the go ahead to begin commercial deployment ahead of the original timeline that was targeting that for 2020.
Huawei, the #1 telecom network maker, said that it was prepared to offer support to mobile operators' 5G investment in China. Huawei said it signed 46 5G commercial contracts in 30 countries to date, shipping more than 100,000 5G base stations.
Some analysts however believe China's 5G rollout will face difficulties due to the U.S. ban on Huawei buying parts and components from American companies without Washington's approval.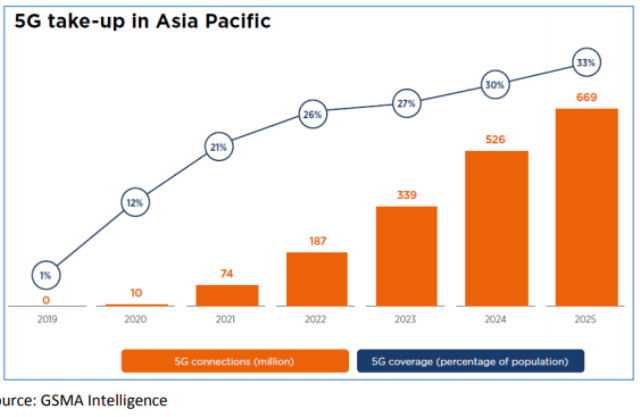 "We remain concerned that if the U.S. export ban on Huawei remains in place for some time, and is even extended to other Chinese tech companies, it will be very difficult for China to build 5G in scale," Jefferies said in a note.
Telecom operators in Britain, the United States and South Korea have already started offering 5G services in limited areas.
In addition to Huawei and ZTE, network makers such as Samsung, Nokia and Ericsson will also benefit from 5G investment in China.
China Mobile, the largest Chinese telecom operator, said it planned to offer 5G services in more than 40 Chinese cities before the end of September.
Meanwhile, media reports said Huawei Technologies has cut or cancelled orders to major suppliers of components for its smartphones and telecom equipment following its U.S. blacklisting.
Taiwan Semiconductor Manufacturing (TSMC) confirmed that orders from Huawei have declined.
Huawei has also downgraded its forecast for total smartphone shipments in the second half of 2019 by about 20-30 percent from the previous estimate, the Nikkei reported.
"Our global production levels are normal, with no notable adjustments in either direction," a Huawei spokesman told Reuters on Thursday, adding there was "no change" to its smartphone sales target.
The Trump administration in May added Huawei to a trade blacklist. The move put Huawei and 68 affiliates in more than two dozen countries on the Commerce Department's Entity List, a move that bans the company from buying parts and components from American firms without U.S. government approval.