GSMA, the telecom industry association, indicated that there are not much use cases for retail consumers of 5G services. Large enterprises will have plenty if the use cases do not end at 5G connectivity.


The latest research report from GSMA Intelligence says 5G will account for about 15 percent of global mobile connections by 2025 — driven by only a handful of markets: China, Japan, Korea and the US. Growth of 5G in Europe will depend on spectrum availability and solving of fragmentation issues.
There will be 1.36 billion 5G consumer mobile connections by 2025, indicating penetration of 15 percent.
China is the single largest 5G market, more than double the US. The 5G take-up path will be longer than for 4G. LTE speeds are improving, which makes 5G less compelling without new services such as AR and VR. Operator Capex will be managed prudently to monitor return on investment before commitment to national rollouts.
5G services on smartphones have two use cases: faster speeds (enhanced mobile broadband) and immersive entertainment. Faster speeds with above 1 Gbps will be pushed but likely carry minimal pricing uplift on 4G. The incremental opportunity is in immersion with AR/ VR/live – indicating lack of monetisation because of such tech is not there yet.
Absorbing excess LTE traffic is a more near-term benefit of 5G, thanks to new spectrum and air interface. The US has introduced a second consumer 5G use case – that of fixed-wireless to the home as a last-mile alternative to cable or DSL. 5G fixed wireless is more a margin than growth play.
GSMA says 5G promises to open up new opportunities to tap B2B and B2B2C demands.  Some of those opportunities may engage edge assets due to latency, data ownership or backhaul requirements; others will involve a mix of core and edge.
China has become a leading testbed, with trials including automotive, drones and high-tech manufacturing. The key issue is not whether 5G works, but whether clients understand how it solves a problem. Operators will be asking a question: will they be selling 5G as connectivity only for realizing lower value or as part of a service package including analytics for higher value.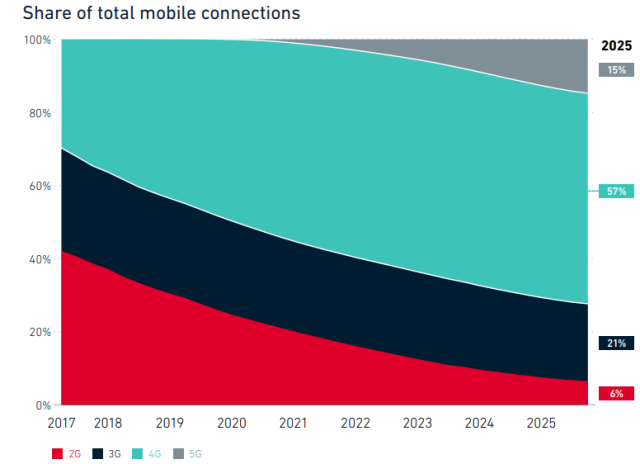 5G and IoT will open up new opportunities in a range of enterprise sectors, and an additional 10 billion industrial IoT connections will be made between now and 2025. This will also drive a shift to decentralised and edge computing, which will bring telcos and cloud players particularly Amazon and Microsoft into a mix of competition and partnership in servicing the vast range of enterprise sectors, overhauling operations with advanced connectivity and analytics.
Connectivity will be commoditised in the IoT era. Providing connectivity will account for only around 5 percent of the global IoT revenue opportunity by 2025 ($51 billion). The vast majority of growth will come from the applications, platforms and services layer, which will account for more than two-thirds of IoT revenue ($754 billion).


An additional 16 billion IoT connections — industrial and consumer — will be added by 2025, alongside 4G and 5G connections growth.
However, until fresh revenue streams are unlocked in these new areas, the revenue outlook for operators is modest. Global mobile revenues topped $1 trillion in 2017, but revenue growth is likely to stay at around 1 percent a year in the period out to 2025.
By 2025, 3.7 billion people — 72 percent of the global internet base – will be accessing the internet exclusively via mobile. Around half of new users coming online over this period will come from five markets: China, India, Indonesia, Nigeria and Pakistan.
For operators in many parts of the world, LTE is and will be the foundation for the next 10 years at least. LTE will increase to 57 percent of total connections in 2025. 5G will reach 15 percent and complementing rather than replace LTE.
Baburajan K