Telecom industry association GSMA has demanded governments to release millimetre wave (mmWave) spectrum for 5G services saying it will add $565 billion to global GDP and $152 billion in tax revenue from 2020 to 2034.

This apart, 5G services will improve access to healthcare, education and mobility whilst reducing pollution and increasing safety.
"These outcomes rely on government support for the identification of sufficient millimetre wave (mmWave) spectrum at the next ITU World Radiocommunication Conference in 2019 (WRC-19)," GSMA said in a report on mmWave 5G spectrum.
mmWave 5G to GDP
# Asia-Pacific — $212 billion
# Americas — $190 billion
# China, Japan, Korea, Australia and New Zealand — $45 billion
# Latin-American and Caribbean countries — $20.8 billion
Recommendations
# Review and support proposals for WRC-19 related to 5G, particularly the recommendation to identify the 26 GHz, 40 GHz and 66-71 GHz bands for IMT
# Support the regional and global process for the harmonisation of the use of these bands
# Review the national regulatory frameworks with the goal of allowing these bands to be deployed within the country.
# Assign adequate amount of mmWave spectrum to operators, avoiding inflating 5G spectrum prices
# Aim to make available 80-100 MHz of contiguous spectrum per operator in prime 5G mid-bands (e.g. 3.5 GHz) and around 1 GHz per operator in millimetre wave bands (i.e. above 24 GHz)
A GSMA report said mmWave spectrum will carry the highest capacity 5G services. It will support very high data transfer rates and ultra-reliable, low latency capabilities, which will support new use cases and deliver the benefits of 5G to consumers and businesses.

"Planning spectrum is essential to enable the 5G performance and government backing for mmWave mobile spectrum at WRC-19 will unlock the greatest value from 5G deployments for their citizens," said Brett Tarnutzer, head of Spectrum, GSMA.
mmWave 5G will provide consumers with ultra-fast mobile broadband services including immersive entertainment. 5G applications will include enhanced remote healthcare and education, industrial automation, virtual and augmented reality, and many others.
The world telecom industry will be discussing about new mmWave bands for mobile at the WRC-19. GSMA recommends supporting the 26 GHz, 40 GHz and 66-71 GHz bands for mobile communications.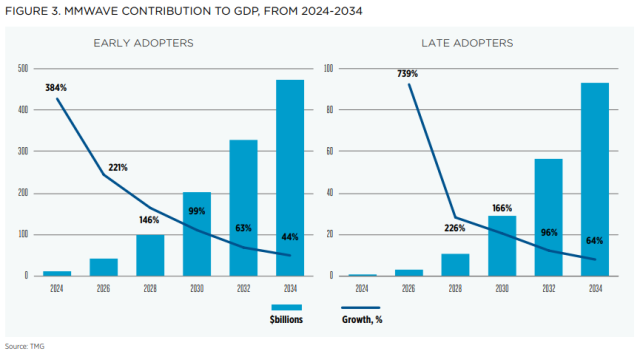 Global harmonisation of these bands at WRC-19 will create the economies of scale and make broadband more affordable.
28 GHz is emerging as an important mmWave band for realising the ultra-high-speed vision for 5G.
In addition to US, countries such as South Korea, Japan, India and Canada will be using 28 GHz spectrum for mmWave 5G.