Sprint CEO Michel Combes has revealed that the company's network investment, excluding leased devices, has more than doubled to $1.4 billion in December quarter as the SoftBank company is pushing for 5G this year.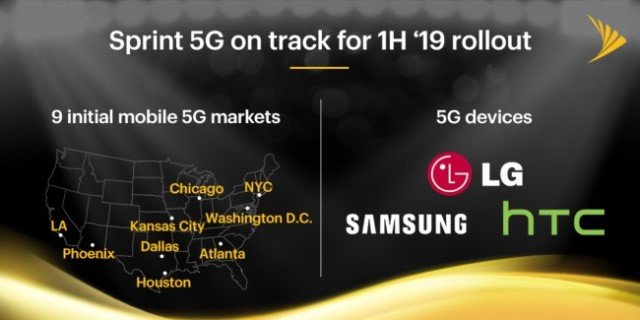 The quarter on quarter increase in network investment was $150 million and the focus was on the expansion of 4G LTE coverage and Internet speed to smartphone customers.
Sprint's mobile 5G network will go live in 9 cities Atlanta, Chicago, Dallas, Houston, Kansas City, Los Angeles, New York City, Phoenix and Washington, D.C. Sprint 5G will be available in the first half of 2019. The company did not reveal its 5G pricing plans.
Sprint network achievements
Sprint has revealed the company's network achievements during the third quarter of fiscal 2018-19.
Sprint CTO John Saw in a blog post said it completed thousands more triband upgrades in Q3. Sprint is giving faster data speeds with 2.5 GHz deployed on roughly 75 percent of its macro sites. It added 800 MHz to thousands of sites, primarily in the Southwest.
Sprint distributed more than 286,000 Magic Boxes.
LTE Advanced is delivering customers up to 2X faster speeds. Gigabit Class LTE is ready in nearly 300 cities.
Massive MIMO in Reston, Virginia is pushing a 4X to 20X increase in speeds both indoors and outdoors at the Reston Town Center, a popular destination with more than 50 stores and 30 restaurants.
Capacity from Massive MIMO has assisted Sprint to achieve 42 percent jump in its network traffic and the number of connections have doubled, due in large part to improved indoor coverage.
Sprint's national average download speed reached 29 Mbps, and speeds are up 93 percent over the past two years.
The latest quarterly data from Ookla says Sprint has the fastest average download speeds in 105 cities.
Sprint's investment in Massive MIMO deployment is offering four times average increase in capacity and up to 10 times speed over traditional LTE. Massive MIMO enables Sprint to simultaneously support LTE and 5G.
The company has announced standards-based 5G devices from LG, HTC, and Samsung.
Sprint said it expects cash capital expenditures between $5 billion to $5.5 billion for the 12 months.

Sprint's operating revenue rose 4.4 percent to $8.60 billion. Sprint reported a net loss of $141 million.
Sprint reported approximately $800 million of combined gross reductions in cost of services and selling, general and administrative expenses in the first three quarters of fiscal 2018 and approximately $300 million of net reductions year-to-date.
The cost optimization strategies of Sprint CFO Andrew Davies will assist the telecom company to deliver gross reductions of more than $1 billion for the fifth consecutive year for the fiscal year.
Michel Combes told analysts during the earnings call that Sprint must complete its merger with T-Mobile US to effectively compete against larger rivals Verizon and AT&T. At the same time, it has pursued a plan to pull back on expensive price promotions to stabilize the business.
Sprint has lost business due to negative perceptions about network quality despite the efforts of chief technology officer John Saw. Sprint lost 26,000 post-paid phone subscribers during the third quarter ended Dec. 31, Reuters reported.
The company focused on promoting data plans for devices like tablets and smartwatches, which helps customers stick with the carrier longer if they have more devices on the network.
Sprint in July revamped its unlimited wireless plans to include more perks at higher prices, in order to make more money from customers on the plans.
The company warned churn could rise in the near-term due to the higher prices. Churn for the third quarter increased to 1.84 percent, up from 1.71 percent last year.
Sprint has achieved 70 percent increase in post-paid gross additions in digital channels. One of every six post-paid customers made the upgrade using a digital channel. Approximately 30 percent of all Sprint customer care chats are now performed by virtual agents using artificial intelligence.
Baburajan K