Vodafone Group CEO Nick Read has revealed some of the 5G strategy without disclosing about the existing investment programs, during the recent earnings call with the industry.

Vodafone under the guidance of chief financial officer Margherita Della Valle seems to be drafting a cautious 5G investment plan considering the fact 5G smartphones are not ready for commercial purposes.
Lack of a strong focus towards 5G business at this point offers less challenges to Vodafone CTO Johan Wibergh, who joined the global telecom operator in 2015 from telecom network supplier Ericsson.
Verizon, a leading telecom operator in US, hired Hans Vestberg, the former CEO of Ericsson, as CTO and then CEO to guide the company in the 5G era. Verizon in Oct 2018 announced its 5G Home services offering high-speed data connections on its fixed wireless network in limited areas. Verizon will also launch mobile 5G this year.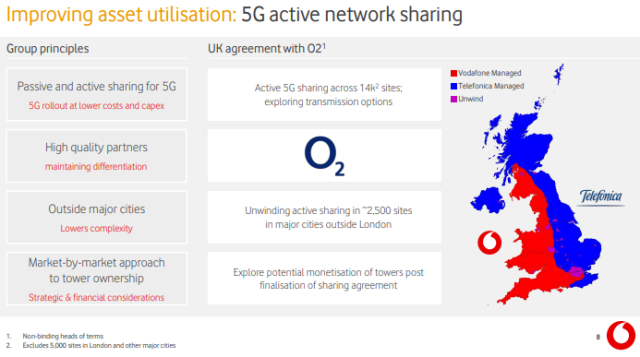 Vodafone, who promoted its CFO to CEO position, focuses more on cost efficiency than new technology areas. Nick Read earlier held CEO positions in Vodafone UK and regional units that handle Asia Pacific, Middle East and Africa as well.
Vodafone is taking a cost-effective roll out strategy in UK. It signed 5G network sharing deal with rival O2 from Telefonica.
Vodafone UK will share 5G services across 14,000 sites based on existing combined passive infrastructure. "We will also explore the scope to share fiber transmission networks driving further savings. We will unwind existing 4G active sharing arrangements in around 2,500 sites in the major cities outside London," Nick Read said.
Vodafone earlier lost big opportunity in 4G business. The delay in framing its 4G investment strategies has resulted into marginal growth in service revenue in Q3 and Q4 of fiscal 2017-18 and Q1 of fiscal 2018-18 and negative growth in Q2 and Q3 of fiscal 2018-19.
Vodafone's emerging business unit said its data users grew 8 percent to 79 million and 4G customers rose 48 percent to 38 million. This supported data growth of over 50 percent in the quarter. Vodafone did not share the total number of 4G subscribers.
Vodafone Group's mobile customer base fell marginally to 275.216 million in Q3 fiscal 2018-19 from 275.834 million in Q2 fiscal 2018-19. Vodafone Europe has 111.853 million mobile customers in Q3 vs 112.333 million in Q2.
Baburajan K