Telecom Lead India: Alcatel-Lucent on Tuesday said it shipped more than 1 million gigabit passive optical network (GPON) ports in second quarter of 2012.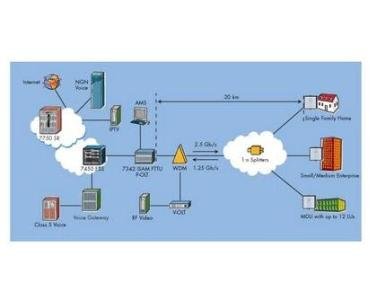 The significant growth is primarily driven by rapid expansion of its business in China and the U.S.
"It is exciting to see that our innovative, market-leading FTTH solutions are resonating with our customers, which is evidenced by the fact that we are growing faster than the market," said Dave Geary, head of Alcatel-Lucent's Fixed Access activities.
"The combination of recent wins with service providers around the world and renewed orders from existing customers shows that the industry appreciates our continued commitment to fiber-based access," Geary added.
According to Dell'Oro and Infonetics, Alcatel-Lucent leads in all four regions.
Recently, Alcatel-Lucent signed GPON contracts with China Telecom, Oi Brazil, Telkom South Africa and Vivacom Bulgaria.
In China, the telecom equipment vendor is the number-1 supplier of GPON gear to China Telecom as well as China Unicom.
In the Americas, Alcatel-Lucent is running the GPON deployments of the largest service providers such as Oi Brazil, Telmex Mexico, and Verizon US.
In Europe, Alcatel-Lucent leads in GPON deployments with Western European operators. It recently started to expand its business in Eastern Europe including a contract with Vivacom Bulgaria.
In the Middle East and Africa, Alcatel-Lucent won GPON deal from Telkom South Africa.
Alcatel-Lucent's Intelligent Services Access Manager (ISAM)-based GPON solution has been deployed by more than 250 service providers around the world, and includes more than 160 FTTH projects.