Bharat Sanchar Nigam (BSNL) announced the launch of its new Bharat Fiber broadband services offering the best plans — across India.

BSNL is offering up to 100Mbps of speed for its FTTH customers. BSNL customers need to make a refundable deposit of Rs 500 towards security for the ONT installation. BSNL will charge Rs 50 ONT monthly rental charges per month.
BSNL is the number one fixed line or wired broadband operator in India. BSNL expanded its broadband presence across India — excluding Mumbai and Delhi metros — at a time private operators were reluctant to invest in wired broadband business due to significant challenges.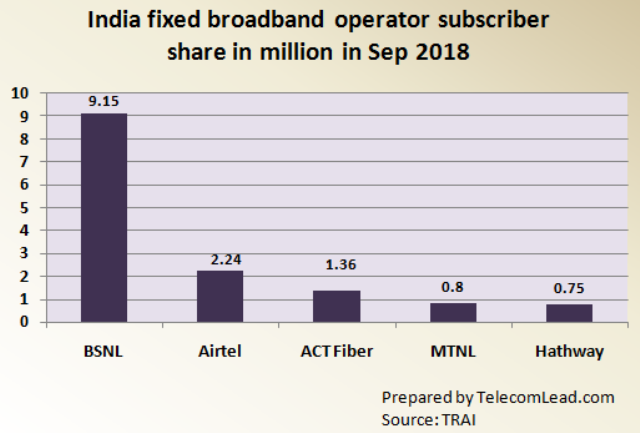 BSNL FTTH plans
BSNL's FTTH broadband plans — starting at Rs 777 per month – will offer up to 50Mbps of Internet speed till 500GB and 2Mbps post completion of data quota. FTTH users can also get up to 100Mbps till 750GB, and 2Mbps beyond for a plan priced at Rs 1,277.
BSNL's Rs 16,999 plan, which is the most costly package from the state-run company, offers 100Mbps broadband speed till 3,500GB, and 10Mbps after completion of broadband data quota.
BSNL says it will further reduce its broadband data prices after the official launch on Saturday.
"Any DSL Broadband plan including combo plan with FMC Rs. 375 and above is applicable on FTTH," according to the BSNL website.
"Bharat Fiber bookings have already been started on bsnl portal. Our technology is one of the best as digital India is a national mission and we want to put all efforts to make this happen in every home of our country," said Vivek Banzal, director CFA, BSNL Board.
Reliance Jio on Thursday said its broadband service called JioGigaFiber services for home broadband has witnessed overwhelming customer interest across 1,400 cities across India. Jio is currently connecting homes on priority based on the requests received and optimising its service offerings for Internet customers.
Jio is taking a security deposit of Rs 4,500 at the time of installation as part of the preview offer. Reliance Jio is offering up to 100Mbps speeds for 90 days along with a monthly data quota of 100GB. Jio is giving free top-up of up to 40GB to users who have exhausted 100GB data quota.