Charter Communications announced increase in revenue, growth in EBITDA and decrease in Capex during the first quarter of 2019.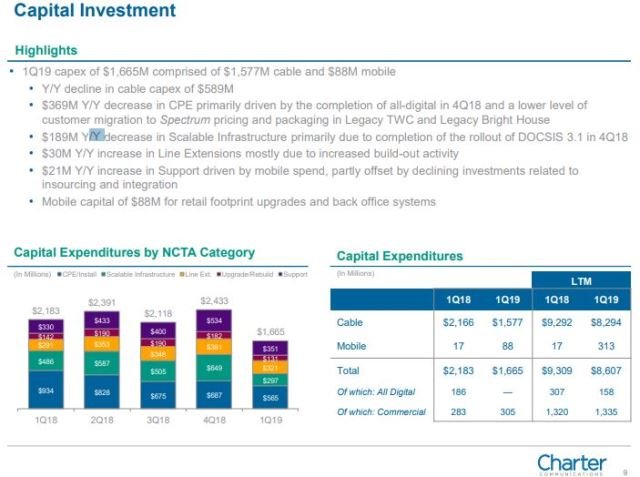 Charter Communications's revenue grew 5.1 percent to $11.2 billion — driven by growth of 4.2 percent in residential business, 4.3 percent in commercial business and mobile revenue of $140 million.
Charter Communications has generated residential revenue of $8.912 billion (+4.2 percent) with contribution of $4.384 billion (+2.1 percent) from video, $4.024 billion (+8.6 percent) from Internet and $504 million (–9.4 percent) from voice business.
In addition, Charter Communications has generated Commercial revenue of $1.588 billion (+4.3 percent) with contribution of $945 million (+5 percent) from Small and medium business and $643 million (+3.4 percent) from enterprises.


Total operating costs and expenses rose 5.7 percent to $7.151 billion with Cable operating costs and expenses touching $6.891 billion (+2 percent) and Mobile operating costs and expenses reaching $260 million.
EBITDA reached $4.055 billion (+4.2 percent) with EBITDA margin of 36.2 percent during the first quarter.
Charter said its residential and SMB customer base increased 351,000, compared to 264,000 during the first quarter of 2018. Charter had 28.5 million total customer base and 53.5 million total PSUs.
Charter added 428,000 residential and SMB Internet connections, lost 145,000 video users and lost 99,000 wireline voice connections.
Charter has added 176,000 mobile lines in the first quarter as compared to 113,000 mobile additions in the fourth quarter of 2018. Charter served 310,000 mobile lines as of March 31, 2019. Charter competes with AT&T, Verizon, T-Mobile and Sprint in the US wireless market.
Capex
Charter said its capital expenditures (Capex) fell to $1.7 billion in Q1 2019 from $2.2 billion during the first quarter of 2018. Its Capex included $88 million for mobile-related spending.
"We accelerated our customer relationship growth and grew our cable free cash flow by nearly $1 billion. Our operating model is designed to drive continuous improvement, and long- 2 term growth," Tom Rutledge, chairman and CEO of Charter Communications, said on Tuesday.
Charter had 24 million residential Internet customers, with over 80 percent subscribing to 100 Mbps or more. Currently, 100 Mbps is the slowest speed offered to new Internet customers in 99 percent of Charter's footprint.
Charter has doubled minimum Internet speeds to 200 Mbps in a number of markets at no additional cost to new and existing Spectrum Internet customers.
Charter in September of 2018 completed the launch of its Spectrum Mobile service to new and existing Spectrum Internet customers. Spectrum Mobile runs on America's largest, most reliable LTE network and is combined with Spectrum WiFi.
Baburajan K