India has achieved the greatest improvement in fixed broadband speed in 2018 — among the world's most populous countries, Ookla report said.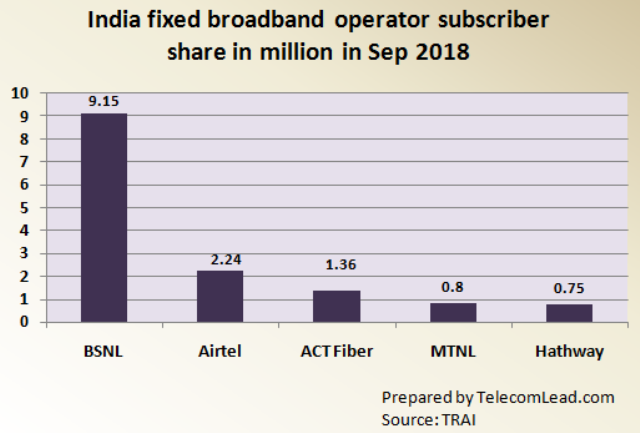 The average fixed broadband download speed in India reached 23 Mbps, showing 50.4 percent increase over the previous year.
The above statistics indicate that BSNL is the leading fixed broadband operator in India with 9.15 million subscribers. Airtel with 2.24 million, ACT Fiber with 1.36 million, MTNL with 0.8 million and Hathway with 0.75 million are in the next four positions.
Reliance Jio is aiming to become the largest fixed broadband operator with the recent acquisition of Hathway Cable and DEN Networks.
India ranked at the bottom of the list in the mobile speed, registering 15.2 percent increase in average download speeds overall.
This improvement comes at a quicker pace than mobile speeds in countries such as Indonesia, which had faster average speeds during 2018.
Vodafone Idea is the largest telecom service operator in India based on mobile phone subscribers. Bharti Airtel, Reliance Jio and BSNL are in the next positions.
India moved up 2 spots on fixed broadband to 111th fastest and remained in 65th over mobile according to the Speedtest Global Index update for November.
China has claimed the fastest average mobile speeds of the 5 largest countries in the world.
United States has achieved the status of top rank for the fastest fixed broadband download speeds. China is in number two position in terms of fixed broadband download speed.
India trailed in a tie for third fastest fixed broadband speeds with Brazil.
The number of gigabit tests in New Delhi increased from 119 results in 2017 to 20,239 in 2018.
Ookla's analysis also revealed that the world's internet speed has increased over 15 percent in 2018. With a mean global speed of 22.82 Mbps, mobile downloads increased 15.20 percent over the last 12 months and mobile uploads increased 11.60 percent.