SoftBank has revealed more details about its joint venture HAPSMobile that has started constructing a HAPS system that delivers telecommunications network connectivity from the sky.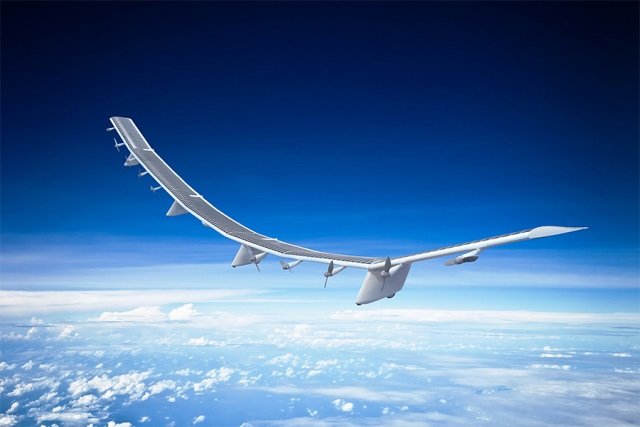 HAPSMobile, a joint venture between SoftBank and US-based AeroVironment, developed HAWK30, an unmanned aircraft for stratospheric telecommunications platform system that flies at altitudes of approximately 20 kilometers.
SoftBank will be using HAPS to build stable Internet connection environments at locations unserved by telecommunication networks. SoftBank will realize wide-area connectivity that spans both the sky and the ground to enable drone utilization, as well as contribute to the adoption of IoT and 5G.
HAPS, which can provide stable telecommunications networks without being affected by situations on the ground, is also expected to help assist rescue and recovery efforts during times of disasters.
HAWK30 measures approximately 78 meters long. Powered by solar panels on its wings that house 10 propellers, HAWK30 can fly at speeds of approximately 110 kilometers per hour on average.
The telecom network to be delivered to the ground by HAWK30 is expected to use a system that does not interfere with the networks of terrestrial base stations. Smooth handovers between networks provided by terrestrial base stations and by HAWK30 will be possible, said SoftBank.
SoftBank said HAPSMobile is targeting 2023 for the mass production of HAWK30 and service launch.
Investment in Loon
SoftBank's HAPSMobile will invest $125 million in Loon. Loon will invest the same amount in HAPSMobile in the future.
SoftBank's year-old HAPSMobile and Alphabet's Loon, which spun out last July from the research incubator of the Google parent, have been trying to fly networking equipment at high altitudes to provide high-speed internet where ground-based towers are unreachable, Reuters reported.
Loon carries the gear with a large balloon, while HAPSMobile uses a large drone.
Also in the competition to fill the coverage gaps are several billionaire entrepreneurs, including Elon Musk, Richard Branson and Jeff Bezos. Each is backing separate early-stage ventures that want to beam internet from satellites in near-Earth orbit.
Loon and HAPSMobile said on Wednesday that collaboration could be the key to adoption. They are discussing the possibility of using each others' technology, standardizing their airborne and ground networking gear and joining forces in regulatory discussions, they said in a statement.