European broadcasting company Sky will undergo an auction process to select the final bid from Comcast or Twenty-First Century Fox, Britain's takeover regulator said.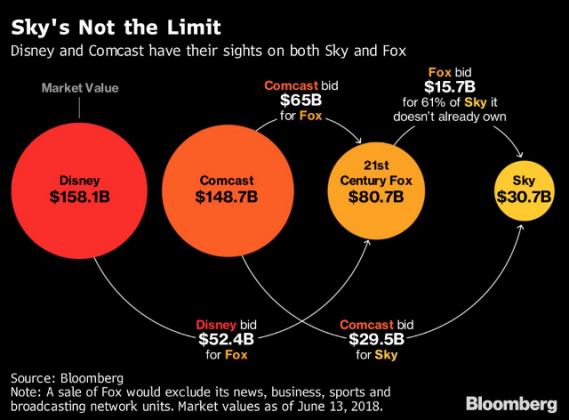 The Takeover Panel said the auction would start, assuming that a competitive situation continues to exist, at 1700 London time on Friday and end on the evening of Saturday, with a maximum of three rounds, Reuters reported.
Sky has received bids from Rupert Murdoch's Fox, which already owns 39 percent of it, and US cable giant Comcast.
Comcast currently leads Fox in the fight with a 14.75 pound a share offer that values the broadcaster at 25.9 billion pounds or $34.2 billion. The pay-television group's independent directors have recommended the bid from Comcast because of the bid value.
Fox made 14 pound a share offer in July for picking up 61 percent stake in Sky. The Fox bid was 37 percent above Fox's original 10.75 pound a share bid. The auction gives opportunity to both Fox and Comcast to enhance the bid value.
Walt Disney has also agreed a separate deal to buy TV and film assets from Fox, including its Sky shareholding, for about $71 billion.
"To provide an orderly framework for the resolution of this competitive situation, and in accordance with Rule 32.5, the panel executive has, after discussions with the parties, established an auction procedure," the regulator said in a statement.
In the first round of the auction, the offeror with the lowest offer at the start of the process can make a higher bid and the other suitor can do so in the next round. If the auction goes on, both offerors may make an increased bid.
Comcast wants Sky
Comcast, according to a report in CNN, had earlier dropped its plan to buy the 21st Century Fox assets after fighting with Disney.
Comcast had bid $65 billion for Fox's movie studio. Disney's bid was $71 billion till July 2018 and later it acquired the business.
Comcast decided to continue to pursue its bid for Sky, which Disney is also trying to buy through Fox.
A Comcast takeover of Sky would deprive Fox, and thus Disney, of a major direct-to-consumer platform in Europe.
One of Disney's top priorities is building direct-to-consumer relationships globally, so that it can compete with Netflix and Amazon. Sky has a direct-to-consumer relationship with 23 million paying subscribers across five European countries, making it a key part of the overall Fox acquisition.
American telecom operator AT&T recently completed the purchase of Time Warner, the parent company of CNN. That effectively drove a stake through Comcast's chances of buying Fox.