The high single-digit growth rate achieved in mobile infrastructure market in the third quarter of 2018 is good news for Huawei, Ericsson, Nokia, ZTE and Samsung.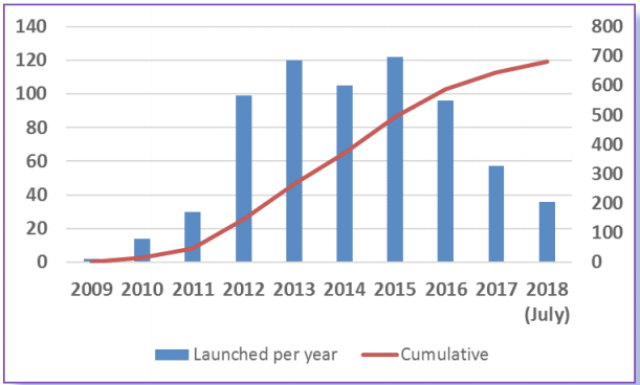 The above chart shows the number of LTE networks launched in the last nine years. This is indicating the pressure on telecom network suppliers due to drop in Capex on mobile operators in LTE market.
The marginal growth in the third quarter of 2018 in the mobile infrastructure market, — recording the strongest growth rate since 2014, assumes great significance because the worldwide Radio Access Networks (RAN) revenues fell in the last three consecutive years, Dell'Oro Group said.
Huawei, Ericsson and Nokia are the leading the global mobile infrastructure market based on their revenue share. The report did not reveal the specific market share of Huawei, Ericsson and Nokia in the global mobile infrastructure market.
The gap between Huawei and Ericsson narrowed sequentially. Recently, Ericsson and Nokia said they would focus on 5G equipment business to strengthen their revenue streams. CEO of Ericsson recently said the company is yet to observe any positive impact on its revenue due to issues faced by Huawei.
The report did not mention about the impact on Huawei, another China-based telecom gear maker, in the wake of the ban in US and Australia from bidding for 5G equipment deals. T-Mobile recently selected Nokia and Ericsson signing two 5G equipment deals — each worth $3.5 billion.
SK Telecom, a leading telecom operator, recently announced the selection of Samsung, Nokia and Ericsson for its forthcoming 5G network roll outs.
Germany is considering banning Huawei from supplying its 5G equipment to local mobile operators when they start building 5G networks.
Ericsson earlier said its total revenue increased 9 percent to SEK 53.8 billion in Q3 2018. Ericsson's revenue from networks business grew 5 percent with strong sales growth in North America as well as in Europe and Latin America.
Nokia said its Networks business revenue rose 1 percent to 4.888 billion euros in the third quarter of 2018.
The difference in revenue performance of Ericsson and Nokia indicates that the single digit growth in mobile infrastructure market was driven by Ericsson and Huawei. Huawei does not announce its revenue performance in quarters.
The marginal growth of Nokia Networks business indicates that Ericsson is growing at the expense of rivals such as Huawei, Nokia, ZTE and Samsung.
"In addition to resurging investments in the North America region propelled by operators investing in LTE and 5G ready networks, the Asia Pacific region rebounded after multiple quarters of steep declines, reflecting improved momentum in China," Stefan Pongratz, senior director with Dell'Oro Group, said.
ZTE's RAN business revenue gained five points share. The China-based vendor regained its number four position from Samsung during Q3 2018. ZTE had lost its global market share and ranking due to US blocking its domestic technology companies from selling components to the global telecom network maker.
The global Radio Access Network (RAN) equipment market is estimated to decline 2 percent in 2018 with 2 percent CAGR for 2017-2022, according to another report by Dell'Oro Group.
Baburajan K