Telecon Lead India: Agilent Technologies, a provider of test and measurement solutions, has appointed Agmatel as its channel partner in India.
Agmatel offers test & measurement and advanced IT Solutions.  Agmatel has more than 300 clients in different markets including Government, Defense & Paramilitary, Education and Healthcare.
Through this partnership, Agilent, the top player in communications test and measurement (T&M) market in India, is looking at strengthening and expanding distribution business.
With Agmatel, Agilent Technologies continues its commitment to extend its reach and support in India with the widest portfolio of test and measurement products.
"We are incredibly pleased to bring on-board a partner that can help us open new markets in India –both for Agilent's state-of-the-art solutions and for our broad range of cost-effective test products," said Dennis Au, vice president and general manager of South Asia field operations (sales, service, support and quality) for Agilent's Electronic Measurement Group.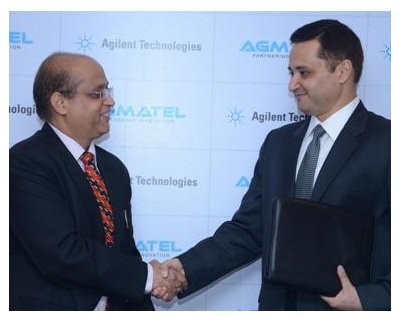 "We are excited about partnering with Agilent Technologies to serve the test and measurement needs of our customers. Agilent's range of solutions and their India focus will help Agmatel in its goal to enlarge Agilent's footprint in this region," said Anand Aggarwal, director, Agmatel India.
"This partnership bundles Agilent's test solutions with the extensive reach and market understanding of Agmatel to address the specific needs of our customers," said Sudhir Tangri, country manager – Sales, Support, Service & Quality, Electronic Measurement Group, Agilent Technologies India.
To further strengthen its distribution network, Agilent has appointed S Vidya Sagar as Agilent India's channel sales manager.
Agilent Technologies recently launched a new T&M solution  — ADS 2012 — with new capabilities to improve productivity and efficiency for all applications it supports. The new solution will address technologies applicable to GaAs, GaN and silicon RF power-amplifier multichip module design.
This is the next major release of its Advanced Design System (ADS) flagship RF and microwave EDA platform, the company said.
Agilent Technologies revenue up 2% at $1.72 billion in Q3 FY12
Agilent Technologies has posted net revenue of $1.72 billion for the third quarter ended July 31, 2012, up 2 percent, as compared to $1.69 billion for the year earlier period. Net income for the quarter stood at $243 million, plunged 26 percent, as compared to $330 million for the third quarter of previous fiscal year.
Recently, Agilent Technologies also completed the acquisition of the Test Systems business assets of AT4 wireless. The acquisition is critical for strategy of Agilent to be the test solution vendor of choice for the leading device suppliers.