Telecom Lead America: Converged billing company Comverse has reshuffled its top management.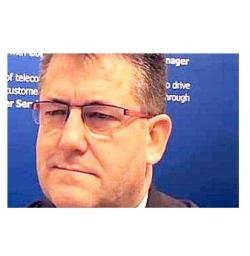 Denis Bernaert will join the company as senior vice president, managing director Europe, Middle East and Africa. Bernaert will be responsible for all CNS sales and operational activities in the EMEA region.
Before joining CNS, he worked with Netcracker, a unit of NEC, where he served as vice president Sales, Europe & Africa.
"Denis Bernaert is a proven executive with more than 20 years of international IT management experience, the last 15 of which were focused on telecom BSS, both as a solutions provider and a network operator," said Philippe Tartavull, president and chief executive officer of Comverse.
"CNS has a strong reputation for leadership, innovation and customer service in the BSS, mobile Internet and Value-Added Services markets, and has excellent opportunities for future growth and success," said Bernaert.
During his 10 years with BSS solutions supplier Convergys, he served in a variety of management positions of increasing responsibility, including delivery, business development, sales and account management.
Prior to that, he served in management roles at communications network operator Cegetel/SFR for five years, focusing on customer care and billing.
Before that, Bernaert was with Accenture for eight years, and as a Senior Manager led several business transformations and IT implementations across a number of industries, including telecommunications.
Meanwhile, Comverse has also appointed Kathleen Harris as senior vice president, Human Resources, and will lead the company's global HR activities.
Harris joins CNS from Sonus Networks, where she has led the global HR team since 2007. She replaces Sharon Dayan, who is leaving the company to pursue other interests.
Kathy Harris brings more than 25 years of Human Resources leadership experience to CNS, the last twelve in telecom and high technology, and she has partnered with executive teams to translate strategy into HR operational plans to meet business objectives.
"CNS is well-known as a global leader in its markets, and its opportunities for growth and success should help the company attract, recruit and retain key talent around the world. Both current and prospective CNS employees have a chance to enjoy a rewarding and fulfilling experience, and I am thrilled to be part of it," said Harris.
Before joining Comverse, Harris worked with Sonus Networks, a provider of wireless and wireline voice over IP and multimedia solutions for carriers, cable companies, and next-generation service providers, where she led the global HR function as vice president, Human Resources.
Prior to that, from 2000 to 2007, she served in a variety of HR management positions at Lightbridge, a provider of technology, services and software that manage customer transactions.