The strategy of Bharti Airtel is to sign content deals with entertainment companies such as ZEE, Star and Sony in order to boost its mobile data usage and reduce churn of mobile subscribers.


The content deals have assisted Airtel's video OTT platform – Airtel TV — to gain 66 million subscribers from just 1 million in March 2017. Airtel music app Wynk is now the #1 music app in the country with 102 million subscribers.
"These content partnerships are boosting mobile data usage and driving down churn to multi-year lows," said CLSA analysts Deepti Chaturvedi and Akshat Agarwal.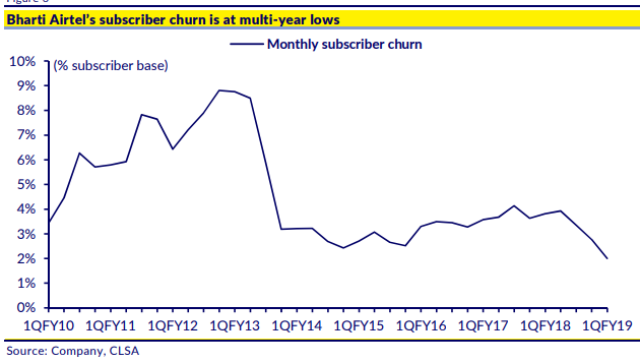 Airtel leads the three player industry, with 34 percent revenue market share in India. Airtel now offers over 10,000 movies and 375 live TV channels on its Airtel TV app. Netflix is the latest addition to Bharti Airtel's content partnerships after ZEE5, Hotstar, Sony Liv, Amazon Prime, Eros Now and ALT Balaji.
Airtel's content partnerships are boosting its mobile data usage by three times to 8GB per month. 3G / 4G subscriber base of Airtel increased 73 percent to 85 million. Airtel reduced subscriber churn by 100 percent to a multi-year low of 2 percent.

"Competition in the mobile space is set to move beyond tariffs and adding new use cases for data like content will become increasingly important to boost both data adoption and usage which in turn will drive ARPU for telcos," CLSA analysts Deepti Chaturvedi and Akshat Agarwal, said.
The CLSA report said Bharti Airtel's subscriber base will dip by 15 million over June 2018 to March 2019 due to Reliance Jio's aggressive push on 4G feature phones. Reliance Industries (RIL) has already become the largest feature phone supplier in India beating Samsung.
Credit Suisse Research Analysts Sunil Tirumalai and Viral Shah said there is a significant difference between Idea's numbers as reported to TRAI and shareholders. Idea's subscriber numbers in the shareholder release is 15 percent lower than TRAI reporting, and conversely ARPU reported to shareholders is 10 percent higher.
The recent Credit Suisse report said ARPU levels have become relevant in a market rapidly shifting to bundled plans. The lower actual ARPU levels for Idea show the deeper pain faced by the company especially as it maintained that it is actively participating in wireless tariff aggression.
Idea Cellular, according to the Credit Suisse report, follows a different definition of mobile subscriber while reporting to shareholders vs TRAI. Idea Cellular ignores subscribers below a certain usage / ARPU threshold.