Cisco service provider business head Jonathan Davidson announced that it is planning to commit $5 billion in 5G funding via Cisco financing over the next three years to help its customers for network transitions to 5G.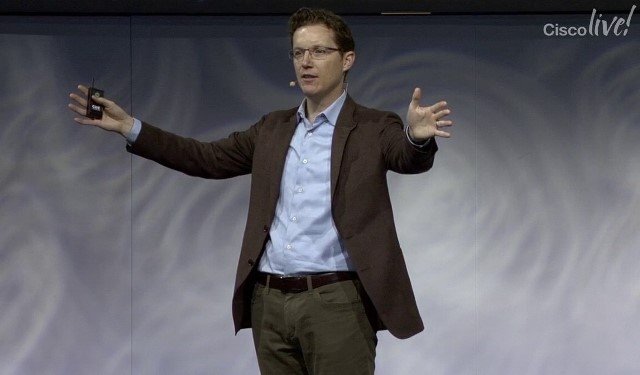 Cisco has over 100 active engagements with global customers on 5G. 40 service providers are trialling and deploying Cisco 5G Now solutions. Cisco does not reveal more details about the customer engagements.
Telecom equipment makers such as HPE, Dell, IBM, Oracle, Juniper Networks, Huawei, ZTE, Ericsson, Nokia and Samsung, among others, are yet to announce any 5G funding to support their customers.
ALSO READ: Cisco reveals deals with Airtel, Sprint, SoftBank, Google, KT and Rakuten
Cisco's recent Mobile VNI Forecast shows that the average 5G connection (22 GB/month) will generate nearly three times more traffic on the networks than the average 4G connection (8 GB/month) by 2022. Cisco said service providers must expand their 4G and 5G networks to support this growth.
Cisco is ready to help its customers grow revenue, launch new services and better manage the 12 billion networked connections expected by 2022.
Cisco at MWC 2019
Intent-based Networking
Cisco Unified Domain Center enables enterprise IT departments to manage all policies, security, and services from the mobile network. It integrates with Cisco DNA Center, blurring the lines between the WAN, LAN, and mobile networks through a single pane of glass.
Routing
Cisco's NCS 5500 400G line cards meets the demand of 5G and delivers investment protection for the NCS5500 router.
Cisco NCS 560 router optimizes converged access and aggregation networks and meets the stringent demands of 5G xHaul, Cable Converged Interconnect network (CIN) and Carrier Ethernet applications.
Cisco NCS 540 router addresses Carrier Ethernet, Cell Site, 5G xHaul and Small Aggregation use cases.
Cloud Native Packet Core
Cisco Ultra Cloud Core with CUPS packet core platform unifies 3G / 4G / 5G / IoT / Wi-Fi connected services.
Automation
Cisco Crosswork Cloud service provides analysis of network data to deliver insights for network operators.
Cisco Crosswork SON uses machine learning to react faster to network issues, predicting potential issues from the radio to the end-user device based on gathered (and ingested) data.
Cisco Crosswork User-centric SON brings subscriber-level analytics to improve network optimization and user experience at faster speeds.
Cisco's Crosswork Optimization Engine ensures real-time analysis and optimization of SDN transport to adapt changing network conditions for optimal performance.
Cisco Network Services Orchestrator 5 features tools that accelerate revenue-generating services with automated, self-service, and on-demand provisioning.
Wi-Fi 6
Cisco worked with Samsung to validate that the industry's first Wi-Fi 6 device — Galaxy S10 — works on Cisco Wi-Fi 6 networks.
Jonathan Davidson, senior vice president and general manager, Service Provider Business, Cisco, said: "Only Cisco can offer the breadth of software and hardware expertise to solve IT pain points that come with delivering cloud-native mobile networks, managed services, automation, IoT, security and data analytics."
Baburajan K