The latest GSMA report – revealed at the Mobile World Congress (MWC 2019) — indicates about 5G investment, 5G subscriber base and 5G opportunities for mobile operators in the coming years.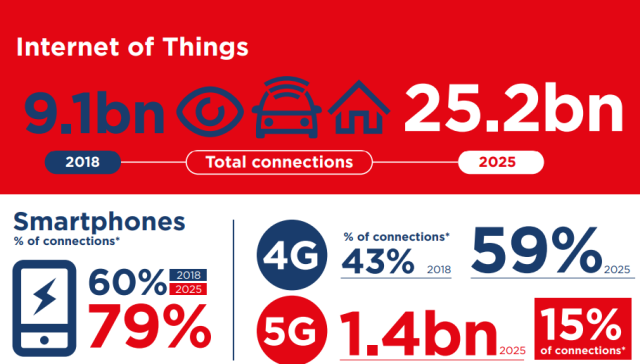 5G Global
The number of global IoT connections will triple to 25 billion, while global IoT revenue will quadruple to $1.1 trillion, between 2018 and 2025.
Over a fifth of the world's markets will have launched 5G by 2020, spending a combined $244 billion on networks in the process.
5G related Capex will grow to $123 billion in 52 markets in 2020 from $81 billion in 19 markets in 2019 and $41 billion in two markets in 2018.

Mobile operators will invest around $480 billion worldwide between 2018 and 2020 in mobile Capex.
South Korea and US launched in Q4 2018; Bahrain, Czech Republic, Estonia, Finland, Saudi Arabia and Switzerland will launch 5G in Q1 2019; Australia and Qatar will launch 5G in Q2 2019; Austria, China, Hong Kong, Kuwait, Spain and UAE will launch 5G in Q3 2019; UK and Portugal will launch 5G in Q4 2019.
The global revenue outlook remains positive, with an annual average growth rate of 1.4 percent between 2018 and 2025.
Mobile operator revenue globally will increase to $1,138 billion in 2025 from $1,033 billion in 2018.

Mobile operator revenue in developing nations will increase to $429 billion in 2025 from $386 billion in 2018. The mobile operator revenue in developing nations will be driven by China and India.
4G overtook 2G in 2018 to become the leading mobile technology, with 3.4 billion connections accounting for 43 percent of the total (excluding licensed cellular IoT). 4G will soon become the dominant mobile technology, surpassing half of global mobile connections in 2019 and reaching 60 percent in 2023.
5G in Asia Pacific
Asia Pacific will have 3.9 billion smartphone connections and 11 billion IoT connections by 2025 up from 2.5 billion and 2.8 billion in 2017 respectively.
5G connections will reach 675 million, accounting for more than half of the global total for 5G, by 2025. 5G connections will scale rapidly, particularly in markets such as China, South Korea, Australia and Japan.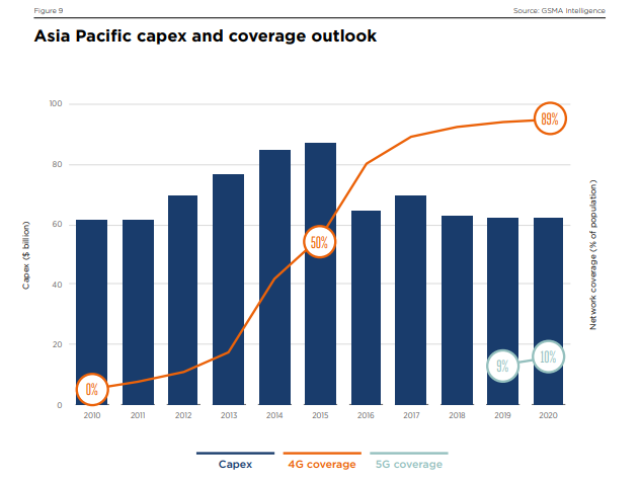 China will be accounting for nearly two thirds of the region's 5G connections by 2025. South Korea, Australia and Japan will also grow 5G connections. In these markets, 5G connections will account for around 50–60 percent of total connections by 2025.
Operator Capex will be over $188 billion for the period 2018–20. Between 2018 and 2020, mobile operators in Asia Pacific are expected to invest 14 percent of revenues or $188 billion in mobile Capex — excluding one-time spectrum acquisitions.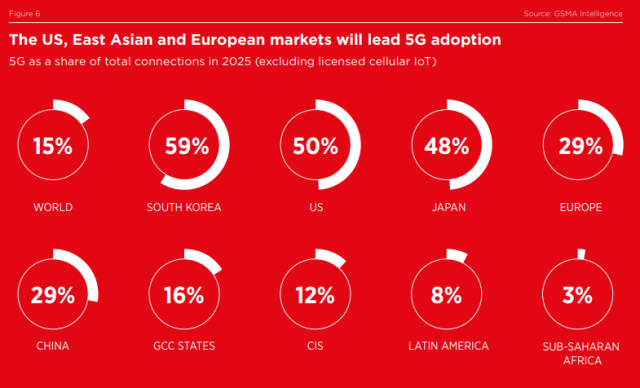 Indonesia will overtake the US during 2018 to become the world's third largest smartphone market — behind China and India.
The number of Internet of Things (IoT) connections in Asia Pacific will increase almost four-fold between 2017 and 2025, reaching 11 billion. The region will continue to be the largest regional IoT market by number of connections in 2025.
Smart cities and smart manufacturing will be the fastest growing applications in terms of connections (33 percent on average annually between 2017 and 2025).
IoT revenue will rise at an average annual rate of 28 percent between 2017 and 2025 to reach $386 billion, overtaking Europe in 2018 and North America in 2023.
India posted 16 percent decline in mobile revenues in 2017, with a further 12 percent decline expected in 2018. Indian market will stabilise in 2019 and revenues to return to growth from 2020.