Huawei announced two 5G agreements with VIVA Bahrain and Nova Iceland – at the Mobile World Congress (MWC 2019) in Barcelona.
VIVA Bahrain
The telecom network maker has revealed that VIVA Bahrain will be upgrading its existing infrastructure based on non-standalone 5G core and 4/5G dual mode radio and backhauling technologies to offer 5G services across Bahrain by June 2019.
Mohammad Al Khushail, acting CEO at VIVA Bahrain; and An Jian, president of Middle East Carrier Network Business Group of Huawei, signed the agreement.
"We will be launching our recent 5G-compliant CPE and 5G mobile phone to complete the offering for consumers in Bahrain," An Jian said.

VIVA's 5G mobile and wireless fixed services will enable VIVA customers to enjoy services such as gaming VR services, 3D 8K video, AR applications, AI and smart cars.
VIVA Bahrain, a subsidiary of the Saudi Telecommunications Company (STC), was the first mobile operator in Bahrain to commercially pilot 5G in June 2018 with a major showcase in City Centre Mall.
Nova
Huawei signed an agreement with Nova to conduct 5G testing in Iceland. Nova aims to offer 5G services in Iceland in 2020.
Margret Tryggvadottir, CEO of NOVA; and Kenneth Fredriksen, CEO for Huawei Sweden and Iceland were instrumental in the decision making.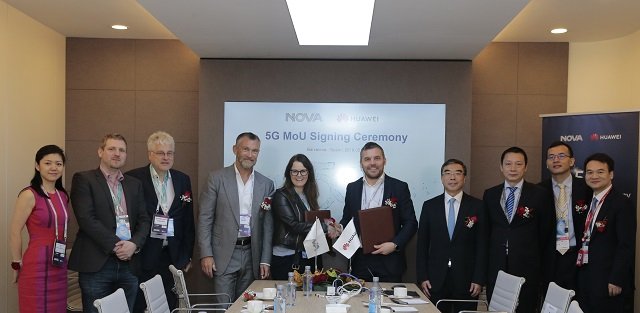 Huawei has installed 5G base stations and routers at Nova's facilities. Huawei engineers will start 5G tests for aspects such as quality of transmission and network security. Huawei has over 30 commercial 5G contracts with telecomm companies worldwide, mainly from Europe including Finland, Spain and UK.
Huawei will be supplying 200 sites of 5G Massive MIMO technology to Nova as part of the 5G roll out plan. Huawei will be responsible for planning, design, rollout, and optimization to ensure the overall network quality and user experience. It will supply approximately 2000 units of 5G CPE.