Apple has revealed its financial results for the March quarter of 2019 indicating that its poor performance will continue in the next quarter as well.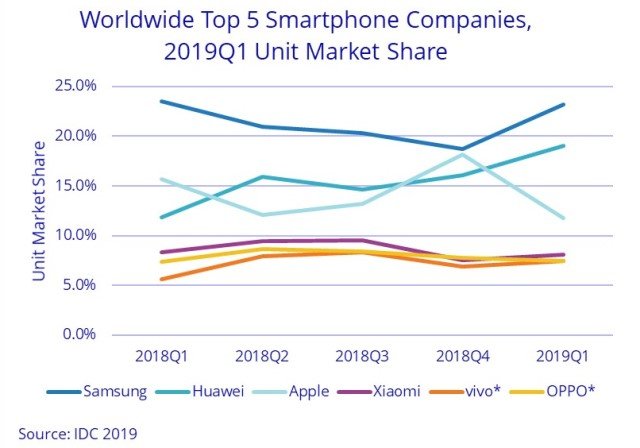 Apple reported revenue of $58.015 billion (–5 percent) with net income of $11.561 billion in the March quarter. Dismal demand for iPhones and Mac computers reflected on the business of Apple. Sales of iPhones account for more than half of all revenue.
Apple is targeting revenue of $52.5 billion — $54.5 billion, gross margin of 37-38 percent with operating expenses of $8.7 billion — $8.8 billion during the June quarter, showing that the Cupertino, California-based technology company will not be able to come out of the current slump.
Apple CEO Tim Cook said that iPhone sales started to strengthen during the last few weeks of the fiscal second quarter, including in China. "These, along with the continued success with wearables and so forth, give us some confidence that things are getting a bit better," Tim Cook told Reuters.
Apple generated revenue of $31.051 billion ($37.559 billion) from iPhone, $5.513 billion ($5.776 billion) from Mac, $4.872 billion ($4.008 billion) from iPad, $5.129 billion ($3.944 billion) from Wearables, Home and Accessories and $11.45 billion ($9.85 billion) from Services.


The latest IDC report indicated that Apple's smartphone shipments dipped to 36.4 million representing 30.2 percent decline from last year. The iPhone struggled to win over consumers in most major markets.
Price cuts in China along with trade-in deals in many markets were not enough to encourage consumers to upgrade. Most competitors will shortly launch 5G smartphones and foldable devices taking away revenue from Apple.
Apple generated revenue of $25.596 billion ($24.841 billion) from Americas, $13.054 billion ($13.846 billion) from Europe, $10.218 billion ($13.024 billion) from Greater China, $5.532 billion ($5.468 billion) from Japan and $3.615 billion ($3.958 billion) from Rest of Asia Pacific including India.
Strategy Analytics said Apple iPhone shipped 43.1 million units to capture 13 percent share in smartphone market in Q1 2019, dipping from 15 percent a year ago.
Apple lost ground in China during the quarter and is struggling to make headway in price-sensitive India. However, decent price cuts in Apple iPhones in China during recent weeks indicate the iPhone will bounce back slightly in the next quarter.
The slowdown stemmed in part from the iPhone's high cost and competition from rivals such as Huawei Technologies, Xiaomi, Oppo and Vivo – all of which sell cheaper smartphones with features similar to the iPhone.
Apple on Tuesday said it has 390 million total subscribers to both its own and third-party services on its devices. The company has set a goal of 500 million by 2020.
Baburajan K