Telecom Lead Europe: Handheld Group, a Swedish manufacturer of rugged mobile computers, has launched its Nautiz X1 ultra-rugged smartphone.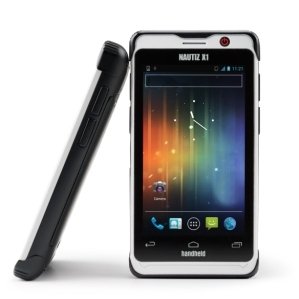 The Nautiz X1 is waterproof, dust-proof and shock-resistant.
"Having manufactured truly rugged mobile computers for many years, ruggedness is in Handheld's DNA. This is no ordinary smartphone. With the Nautiz X1, we are providing a smartphone that delivers the reliability and sturdiness of an ultra-rugged computer," said Jerker Hellstrom, CEO, Handheld Group.
The Nautiz X1's IP67 ingress protection rating means it's protected against dust and sand, and can withstand immersion in water. It also meets stringent MIL-STD-810G military standards for enduring humidity, vibration, drops and extreme temperatures.
Probably the lightest, slimmest rugged smartphone on the market, the Nautiz X1 weighs in at a mere 180 grams (6.3 ounces) and measures only 125x65x15 mm (4.9″x2.6″x0.6″). It has a 4-inch WVGA sunlight-readable and damage-resistant capacitive touchscreen.
The Nautiz X1 runs on 1 GHz dual-core processor and 512 MB of RAM, and comes with 2 GB of onboard storage. It provides voice and data transmission over GSM or CDMA networks and connects to 802.11 b/g/n Wi-Fi networks.
It also features Bluetooth, GPS, and a 5-megapixel camera, and comes with the latest Android 4.0 (Ice Cream Sandwich) or Windows Embedded Handheld 6.5 operating system. Different battery options will enable a full day's work under any condition or environment.
The Nautiz X1 is specifically developed for field workers in industries such as geomatics, logistics, forestry, public transportation, utilities, construction, maintenance, mining, military and security.
"Though our rugged computers are primarily aimed at our traditional business segments, we see an increased demand for truly rugged smartphones among consumers searching for a durable, but still stylish, smartphone," Hellstrom added.
The Nautiz X1 smartphone is available for a price of €699/$899.