Telecom Lead America: Chip major DSP Group and SoftAtHome have jointly integrated Digital Enhanced Cordless Technology (DECT) Ultra Low Energy (ULE) home security, control and automation solutions.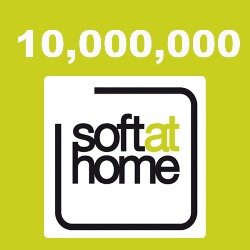 Recently, they delivered an advanced home gateway featuring DECT CAT-iq 2.0 to a tier-1 telecom operator in Europe.
DSP Group said SoftAtHome, a provider of home operating platforms, delivers advanced software solutions for CPEs in different market segments. For telecom operators, SoftAtHome's gBox (gateway box) enables access and broadband services, while the ipBox (IP set-top box) enables OTT and managed services.
SoftAtHome's oneBox offers combined services within a single device. Broadcasters can also benefit from the hBox, enabling hybrid Broadcast and OTT beyond-media services. These solutions exploit SoftAtHome's 4 C's concept, including Content, Communications, Commerce and Control.
SoftAtHome and DSP Group have partnered to create the first solution available for the emerging DECT ULE standard.
"Service Providers are looking for an easy-to-deploy solution, and a home gateway powered by DECT ULE technology is the ideal fit. We're delighted to reinforce our partnership with DSP Group to offer best-in-class Smart Home solutions combining our solutions. Our collaboration will help our clients by giving them a new competitive advantage in the tough markets they serve," said Michel Degland, CEO of SoftAtHome.
"DECT ULE in home gateways paves the way for telecommunication operators to offer attractive and value added services that significantly increase ARPU at a minimal cost. Service providers can leverage DECT-enabled home gateways and offer a variety of DECT ULE-enabled home automation, control and monitoring devices," said Jan Abelev, corporate vice president of Product Management at DSP Group.
Recently, TelecomLead.com reported that DSP Group announced that Huawei is using DSP Group's XceedR digital cordless chipset solution in Huawei F685 3G DECT Digital Cordless Phone.