Bharti Infratel reported revenue of Rs 3,640 crore (–0.4 percent), EBITDA of Rs 1,513 crore (–6 percent) with operating margin of 41.6 percent in the third quarter of fiscal 2018-19.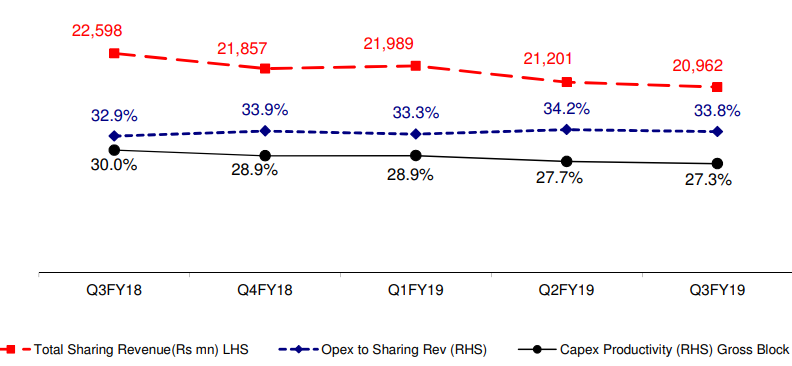 The telecom tower company reported 11 percent increase in net profit to Rs 648 crore despite co-location exits due to consolidation in the Indian telecom industry.
Akhil Gupta, chairman of Bharti Infratel, said: "We are looking at the next phase of network and related infrastructure rollouts – for 4G and 5G. These would require large investments, thereby presenting potential for sizeable growth for passive infrastructure companies."
Telecom operators such as Bharti Airtel, Vodafone Idea, Reliance Jio and BSNL are in the process of expanding their 4G networks. Bharti Airtel, Vodafone Idea, Reliance Jio and BSNL are also keen to invest in 5G networks in future.
Bharti Infratel operated 40,192 towers with 77,693 co-locations in 11 telecom circles while Indus Towers operated 124,069 towers with 230,372 co-locations in 15 telecom circles as of December 31, 2018.
Co-locations churn was 2,540. 2,744 co-locations are billed and exits have not happened. Net co-locations decreased by 63.
Revenue from operations was Rs 36,402 million and this includes exit charges amounting to Rs 553 million. Operating expenses were Rs 21,274 million, or 58 percent of revenues from operations.
The company incurred expenses of Rs 14,184 million on power and fuel, Rs 3,050 million on rent, Rs 2,021 million for repair & maintenance (operations and maintenance costs of the network) and Rs 1,242 million for employee benefits expenses.
Bharti Infratel's capital expenditure (Capex) was Rs 4,078 million during the third quarter of fiscal 2018-19.
Bharti Infratel's tower base increased to 92,301 in Q3 fiscal 2018-19 from 92,123 in Q2 fiscal 2018-19 and 91,007 in Q3 fiscal 2017-18.
Bharti Infratel's co-locations fell to 174,449 in Q3 fiscal 2018-19 from 174,512 in Q2 fiscal 2018-19 and from 213,476 in Q3 fiscal 2017-18.
Bharti Airtel's board of Directors, in order to explore a potential monetization of stake in future, has approved transfer of additional 32 percent stake in Bharti Infratel to Nettle, wholly owned subsidiary of Bharti Airtel. With this Nettle's ownership will go to 35.18 percent and Airtel will directly own 18.33 percent — subject to shareholders' approval.
Vodafone-Idea said telecom tower companies Bharti Infratel and Indus Towers sought exit charges following Vodafone-Idea merger that led to two tenancies on a single tower being converted into one.
Prior to the mega merger, Vodafone and Idea had tenancies on the same tower of various infrastructure service providers.
"Both Bharti Infratel and Indus have raised demands for exit charges on the company on account of this change and for which the company is in negotiation with them," Vodafone Idea said in a regulatory filing.