The Capex of hyperscale operators increased 53 percent in the first three quarters of 2018 — reaching $26 billion in Q3 2018, Synergy Research Group said.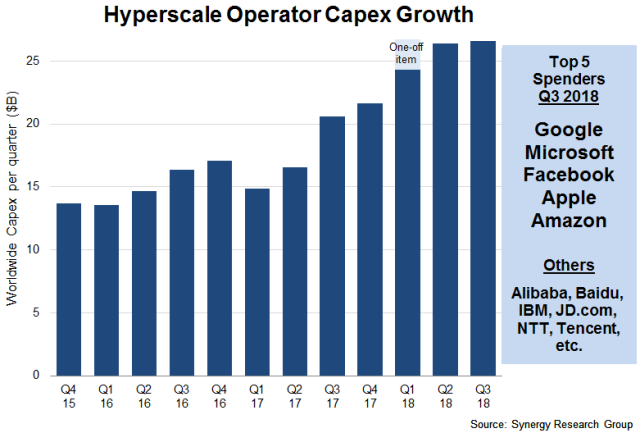 Google's purchase of Manhattan's Chelsea Market building in March gave $2.4 billion boost in the first quarter of 2018.
Google, Microsoft, Amazon, Apple and Facebook, which in aggregate account for 70 percent of hyperscale capex, top the spending.
Microsoft's Capex reached a record level in Q3, while Capex at the four leaders dropped off marginally compared with the all-time highs seen in the previous quarter. Alibaba's Capex leapt in the quarter putting it way ahead of other hyperscale operators.
The number of huge data centers has grown to 423. Other leading hyperscale spenders included Alibaba, Baidu, IBM, JD.com, NTT and Tencent.
"There is a boon for data center technology vendors and for colocation/wholesale data center operators, but it has created a huge barrier for companies wishing to compete with hyperscale firms," John Dinsdale, chief analyst at Synergy Research Group, said.