Telecom Lead America: Tellabs has launched Mini ONTs, a new series of optical network terminals (ONTs) featuring compact size.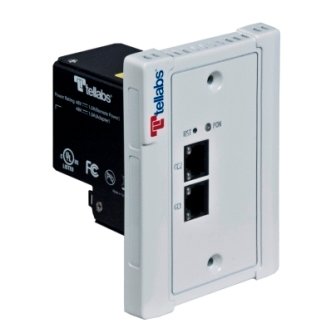 Purpose-built for enterprise networks, the new Tellabs 100 Series Mini Optical Network Terminals fit anywhere, so they can conveniently deliver voice, data and video to workplaces. The Mini ONTS also reduce cabling requirements and exposure to damage or theft, with no ONTs sitting on or under desks.
The Mini ONTs also eliminate fiber jumpers and desk/wall mounts and reduce the space for communications closets. Since they are remotely powered from the communications closet, there is no power or battery backup system on the desktop. They incur minimum deployment costs.
A single fiber provides voice, video and data services. The solution delivers Tellabs All-Secure PON for high security, with the fiber terminated in the wall outlet.
"Tellabs Optical LAN saves government and enterprise customers money, energy and space. The new Tellabs Mini ONT makes Optical LAN even better because it fits in your hand, yet offers cutting-edge enterprise ONT features," said Dan Kelly, acting president and CEO of Tellabs. "Our new Mini ONTs install in a wall outlet, which enterprises are used to. Still, they deliver all the cost, efficiency and security advantages of Optical LAN."
The Tellabs 100 Series Mini ONT supports future extension modules to provide WiFi, CATV, additional Gigabit Ethernet ports, telephone jacks, and ZigBee wireless connectivity
The first Tellabs 100 Series Mini ONTs are scheduled for release in the fourth quarter of 2012. The new Tellabs 100 Series Mini ONTs will be generally available in early 2013.
Tellabs also introduced Tellabs 500 Series of Optical Distribution Hubs (ODH). The ODH serves as an integrated optical splitter and power source for Tellabs 120 Mini ONTs. Just 1 RU (rack unit) by 19″ wide, the ODH fits in the communication closet, or even in ceiling zone boxes or raised floors, further reducing overall space requirements.
The first Tellabs 553 ODH model will be released in the fourth quarter of 2012.