Telecom Lead India: 3G roaming pact is the most important aspect for the success of 3G in India since all the big operators did not have enough funds to buy pan-India 3G spectrum in 2010.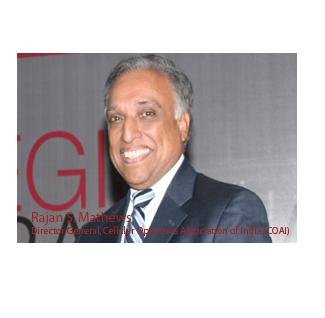 COAI director general Rajan Mathews told TelecomLead.com: "3G roaming is a major issue. Without 3G roaming, revival of 3G will not happen in India. It will affect operators, mobile consumers and the government revenue."
The only solution available to Indian telecom operators is getting free 3G spectrum in other circles where these operators are not present. During the spectrum auction in 2010, Indian telecom players were told by the Department of Telecommunication that roaming will be allowed. "That's why Airtel has moved the Delhi High Court today against the DoT order today to continue 3G roaming services," Mathews added.
Meanwhile, Airtel said it has received the show-cause notice received from DoT on 3G roaming. The mobile operator is seeking appropriate legal remedy against the same.
Airtel confirms that 3G ICR arrangements are in compliance with the clarifications of the DoT at the time of the auction of the 3G spectrum, all applicable laws and licensing conditions and are hugely beneficial to customers and grave inconvenience will be caused to customers if it is disallowed.
3G is the lifeline of Indian telecom industry. For Vodafone and Idea Cellular as well, continuation of 3G roaming is vital.
Look at Idea Cellular's recent report available on their website:
Idea launched 3G services in 10 service areas, out of 11 service areas where it won 3G spectrum. It has 13363 3G sites in these service areas as in June 2012. Idea Cellular launched 3G services under roaming arrangements for the service areas of Mumbai, Bihar, Karnataka, Rajasthan, West Bengal, Delhi, Kolkata, Tamil Nadu (incl. Chennai), Assam and North East. With these roaming arrangements Idea currently offers 3G services in 20 service areas. It has around 3.1 million 3G subs with average data usage of 375 MB and data ARPU of Rs 88.
If the Court does not accept the petition by Airtel, all 3G operators will be badly affected.
Meanwhile, TelecomLead.com predicted that Indian mobile service providers are likely to generate around Rs 4,800 crore as data revenue from 3G and 4G services in 2012 after buying spectrum for Rs 106,336 crore in 2010.
In 2011, Indian telecom operators' data revenue from 3G and 4G services was not significant as 3G was just taking off in the country and 4G was not launched. Recently, Maravedis-Rethink said that active 3G subscriber base in Indian telecom market will reach 41 million by the end of 2012. Idea Cellular, one of the leading 3G players in India, recently said its 3G data ARPU was Rs 88 in the first quarter of 2012. Analysts said 3G data ARPU is likely to go up in third and fourth quarters due to increased usage during festival seasons.
Till further communication from the Delhi High Court, Airtel will not stop the 3G roaming services in the seven circles where it does not have 3G spectrum.
Indian telecom business is surviving thanks to litigations. Can our mobile operators spend more time on innovation than litigation? For this, India needs an industry-friendly government. India's ad-hoc policy decisions have already ruined the momentum. Hope telecom minister Kapil Sibal will step in.