Telecom operator KPN has revealed its savings in Opex, increase in Capex and decline in revenue during the first quarter of 2019.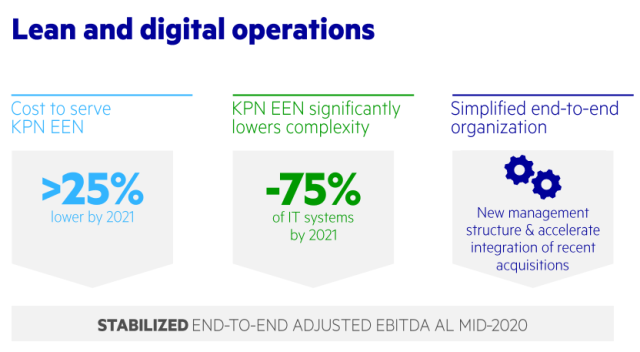 KPN has reported revenue of €1.362 billion (–2.9 percent) in Q1. KPN generated revenue of €728 million (–2.1 percent) from consumer, €506 million (–4.9 percent) from Business and €157 million (+3 percent) in Wholesale divisions.
Revenues from Communication Services declined 7.6 percent, driven by lower revenues from fixed voice (–15 percent) and by lower mobile service revenues (–8.8 percent) in the first quarter of 2019. KPN's Internet of Things (IoT) solution business achieved 5.8 percent growth.
KPN's simplification and digitalization drive yielded indirect Opex savings of €27 million in Q1. KPN expects this new program to result in approximately €350 million net indirect Opex savings over the period 2019 – 2021.
KPN is transforming its operating platform by simplifying the underlying IT infrastructure. This enables strengthened and faster delivery of converged products and an improved digital customer interaction for migrated customers.
KPN's Capex increased 11 percent to €261 million in Q1 2019, mainly driven by higher fixed access investments.
KPN is targeting an annual Capex of €1.1 billion in 2019. KPN will not increase its Capex from €1.1 billion during 2019-2021 despite the company's drive to launch 5G network in 2021.


KPN said it made preparations for the modernization of its mobile networks in the coming years, making it 5G-ready by the end of 2021.
KPN has started construction FTTH network in 11 neighbourhoods in the Netherlands as part of the fiber roll-out strategy. KPN signed an agreement with Finland-based telecom network maker Nokia to use G-PON technology to strengthen the performance of fiber network and offer upload and download speeds of up to 10 Gbps.
KPN CEO Maximo Ibarra said: "As part of our accelerated FTTH roll-out strategy, we opted to deploy the latest PON technology to strengthen the performance of our fiber network. This will make symmetrical speeds of up to 10Gbps possible, providing a true future-proof connection for our customers."
Baburajan K