MTS Group has revealed that it will increase its Capex to RUB 90 billion in 2019 vs RUB 86.5 billion in 2018.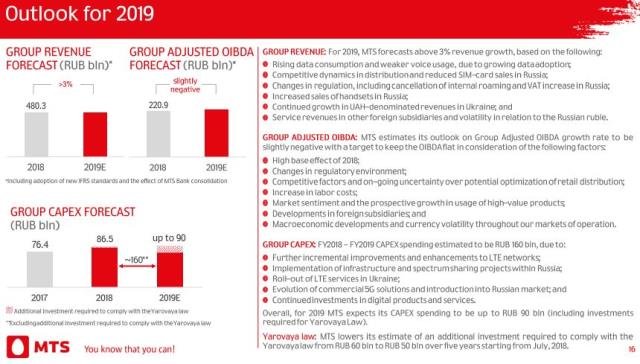 MTS Group will be spending on the expansion of LTE network mainly in Ukraine, launch of 5G services in Russia. MTS will also be investing in digital products and services to bring more cost efficiency.
The Capex of MTS was RUB 75.1 billion in Russia, RUB 9.3 billion in Ukraine and RUB 2 billion in Armenia in 2018.
MTS has built 21,500 base stations including 13,400 LTE base stations in 2018 focusing on 83 regions in Russia. MTS said its LTE coverage reached 68 percent of the Russian population in 2018.
The company has also made investment in the expansion of FTTB and GPON. MTS Group said its FTTB and GPON coverage expanded to 93.2 percent of the population in Russia in 2018.
MTS Group reported revenue of RUB 130.1 billion (+11.3 percent) in Q4 and RUB 480.3 billion (+8.4 percent) in 2018.

Operating profit of MTS Group was RB 28.9 billion (+26.1 percent) in Q4 and RUB 116.2 billion (+20.9 percent) in 2018.