Telecom Lead Asia: NTT Communications (Thailand) has set up its office in Myanmar.
The branch office, based in Yangon, will work with local carriers to provide ICT solutions that enable multinational companies to expand their operations securely in Myanmar.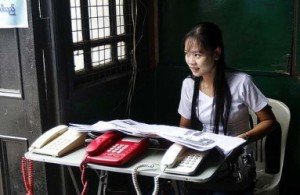 The branch is the first to be launched in Myanmar by a foreign telecommunications company.
With the addition of the Myanmar Branch, NTT Com's network of subsidiaries and offices has expanded to seven cities in five countries of the Greater Mekong Subregion, and 87 cities in 31 countries/regions of the world.
The new office is headed by Tsuyoshi Kawashima, president of NTT Communications (Thailand) and manager of its Phnom Penh and Vientiane branches.
NTT Com currently provides ICT solutions, including cloud, international and local networks, data centers, system integration and security, to multinational companies in the Greater Mekong Subregion, including Myanmar.
A number of multinational companies are expanding their operations in the Greater Mekong Subregion, supported by ongoing improvement of infrastructure in the East-West Economic Corridor linking Vietnam, Laos, Thailand and Myanmar; the Kunming-Bangkok Expressway linking Thailand, Laos, Myanmar and Mainland China's Yunnan Province; and the Southern Economic Corridor linking Vietnam, Cambodia and Thailand.
Multinational companies in the Greater Mekong Subregion are establishing production, distribution and sales systems, as well as working to secure business continuity resistant to natural disasters and political uncertainties, all of which are raising the demand for high-quality ICT services available throughout the region and beyond.
Recently, TelecomLead.com reported that Hutchison Global Communications (HGC) will enter Myanmar telecom market to offer international data and voice services in the country.  The company's entry into Myanmar, which opened up the telecom sector for foreign players, will be via an authorized Myanma Posts and Telecommunications (MPT) representative.
Myanmar's MPT awarded new telecoms licences following liberalization of the local market earlier this year. The impact will be significant as Myanmar, with an estimated population of over 60 million, has only around one million people enjoy the benefits of a mobile telephone. Around 400,000 people have internet access in Myanmar. HGC is the first foreign telecoms provider to serve Myanmar's data and voice markets.