Telecom Lead U.S:  Sprint has launched an innovative service, called StarStar Me that lets customers use a name they choose in place of their mobile telephone number.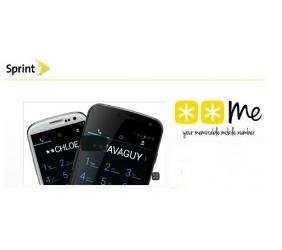 StarStar Me allows consumers to choose a name, nickname or unique word in place of their mobile phone number.
For example, Sprint customers can now choose names like **SARAH (**72724) instead of 10 hard-to-remember digits. Then people can call them on their mobile phone by simply tapping the star key twice on the phone's keypad, followed by the name, nickname, or unique word they chose, using keypad letters or characters.
With the availability of text-friendly keyboards on smartphones, the process of calling someone becomes easier. StarStar Me also offers users the ability to automatically respond to calls with a custom text message when they're busy, as well as a unique way to share links to their blog, website or social media accounts.
"Sprint customers will be the first people to get StarStar Me," said Kevin McGinnis, vice president-Product and Technology Development, Sprint. "We expect this service to be especially popular with professionals, students and family customers, who can tailor its use to their individual preferences, lifestyles and interests with a few simple clicks."
Sprint subscribers can have two StarStar Me numbers per mobile phone number. The service costs $2.99/month per StarStar Me number. Calls may be made to StarStar numbers within the United States from any Sprint, Verizon, T-Mobile or AT&T mobile phone.
Customers can also download a free StarStar Me app, available now on Android-powered smartphones and soon on the iPhone, which allows them to easily manage incoming calls, automatically send a text message to callers when they're busy, or send callers their contact info, which they can easily add to their address book.
Sprint to launch 4G in more than 100 additional cities in coming months
Recently Sprint announced it will launch 4G in more than 100 additional cities in the coming months. During the pre-launch phase itself, Sprint customers may be able to use the network. However, mobile users will experience actual 4G data speeds and quality after the official debut.