5G connection forecast for next four years in the latest report from 5G Americas and Ovum indicates that growth in 5G connections will be slow.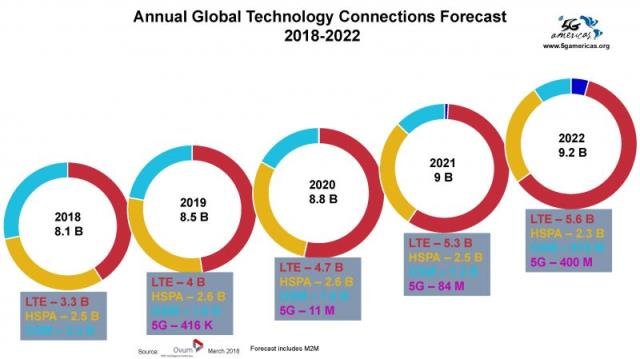 Global mobile connections on 3G, 4G and 5G networks will reach 10 billion in 2023, says Ovum.
5G
5G will have less than 1 million global connections in 2019; 37 million by 2020 and 156 million in 2021; 500 million by 2022 and 1.3 billion in 2023.
North America will take early lead in 5G deployments. AT&T, Verizon, T-Mobile and Sprint will be launching 5G in 2018 or 2019.

North America will have 336 thousand 5G connections by the end of 2019 representing 47 percent of total global 5G connections.
Mobile operators in North America are building their 5G networks upon the strong LTE foundation.
North America will have 32 million 5G connections in 2021, representing 6 percent of total North American connections. North America will have 186 million 5G connections in 2023 and 32 percent of all North America connections.

5G network will take at least 4 to 5 years to ensure comprehensive coverage in Latin America and Caribbean region. The first commercial launch of 5G in Latin America and Caribbean will be in 2019.
3G
3G connections will reach 2.5 billion in 2018, 2.6 billion in 2019, 2.6 billion in 2020, 2.5 billion in 2021 and 2.3 billion in 2022.
4G / LTE
4G LTE connections will reach nearly 4 billion at end of 2018; more than 5 billion by 2020; and about 6 billion (including M2M) in 2022 and drop to 5.7 billion in 2023.
LTE added 239 million connections worldwide in the third quarter of 2018.
Kristin Paulin, senior analyst, Ovum, said: "LTE will continue to grow well into 2022 and will decline in subscriptions beginning around 2023 due to 5G growth. Regardless, GSM, HSPA and LTE will still be deployed worldwide in 2023."

There are 624 LTE commercial networks worldwide, while 282 operators have evolved to LTE-Advanced.
North America has LTE penetration rate of 107 percent with 390 million LTE connections in the third quarter of 2018.
LTE subscriptions in Latin America and the Caribbean region reached over a quarter billion in the third quarter of 2018.
Baburajan K