Telecom Lead Australia: T-Mobile, Huawei and Qualcomm have executed a new technology trial enabling a voice handover from LTE to 3G without any perceivable interruption for the user.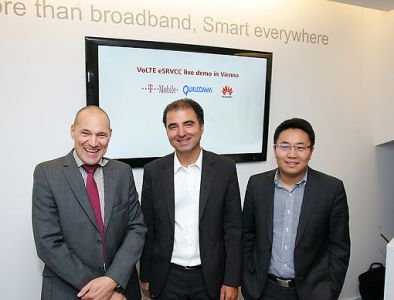 The new LTE mobile data transfer standard can be used for seamless handover of voice calls and video telephony from LTE to 3G/UMTS networks.
Voice call continuity from LTE to 3G/UMTS network using the 3GPP Rel. 10 standard will enable users throughout Europe to switch from LTE to standard mobile telephone networks without any noticeable interruptions.
The advantages of this new Voice over LTE (VoLTE) technology include crystal clear call quality as well as generally faster connection speeds.
The solution introduced by T-Mobile Austria and Huawei will make quality calls using LTE technology a reality.
Thanks to network switching technology from Huawei and VoLTE test phones based on Qualcomm Snapdragon S4 processor MSM8960 chipset, the technology guarantees a smooth changeover to Voice over LTE for mobile network operators across Europe.
This achievement represents a significant milestone in the introduction of voice calls via LTE in Europe.
"Our successful pilot project showed that not only rapid data transfer, but also Voice over LTE technology is ready for wide spread commercial use. Huawei and Qualcomm clearly proved their credentials and demonstrated their problem-solving expertise during the course of the venture with T-Mobile," said T-Mobile Austria CTO Rudiger Koster.
"This solution has enabled us to eliminate a number of previously insurmountable technical problems. Now that we have found a way to seamlessly switch to standard mobile telephone networks during the course of an active call, operators can rapidly move over to LTE technology while assuring continued customer satisfaction throughout Europe," said Daniel Zhou, CEO of Huawei Austria.