5G smartphone shipments in India would top 140 million by 2025, a report by CyberMedia Research (CMR) said on Thursday.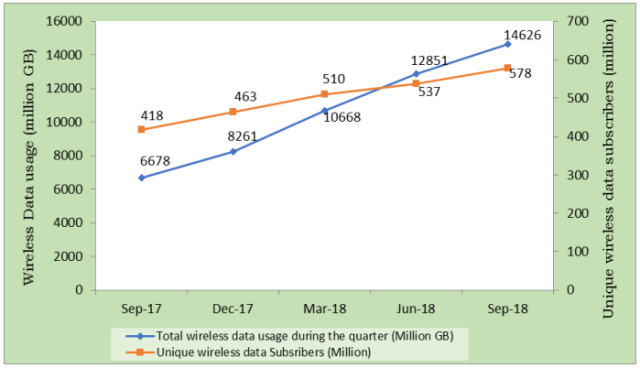 5G-enabled devices will be contributing to three percent of the total smartphone shipments by 2021 and reach 16 percent by 2025.
India government is yet to announce its 5G spectrum price policy and spectrum auction plans. Top telecom operators will be trying to join the 5G race when cost effective smartphones are available in the 5G market. South Korea and US are the only two countries to announce 5G mobile launches.
The CMR report said the shipments of 4G devices rose 50 percent to cross 200 million units in India in 2018. While 4G-enabled mobile device shipments crossed 60 percent, 4G tablets accounted for 44 percent of the total tablet shipments in 2018.
TRAI said the number of mobile data subscribers increased to 578.20 million in Dec quarter from 536.72 million in Sept quarter.
TRAI today said volume of total wireless data usage increased from 12,549,891 terabytes during September quarter to 14,283,256 terabytes during December quarter of 2018.
Indian consumed 98,732 terabytes of data on 2G network, 1,360,049 terabyte on 3G network and 12,824,475 terabytes on 4G network.
"The 4G device penetration in India continues to gain traction, with 4G mobile phone and 4G tablet shipments on the rise," said Prabhu Ram, head – Industry Intelligence Group (IIG), CMR.
In 2018, 4G contributed for 100 percent of the total data cards that were shipped throughout the year.
Reliance Jio, Xiaomi and Samsung have emerged as the top 4G smartphone players with 33 percent, 20 percent and 17 percent market shares, respectively, in the Indian 4G smartphone market in 2018.
Lenovo, Samsung and iBall secured 40 percent, 26 percent and 14 percent market share, respectively, in the 4G tablets category.
CMR said 4G technology adoption would surpass 80 percent by 2024. Telecom operators such as Bharti Airtel, Vodafone Idea and Reliance Jio are making investment in 4G network to enhance speed and the quality of the network.