Apple has lowered its sales forecast to $84 billion in revenue for its fiscal first quarter ended Dec. 29, below its earlier forecast of $89-$93 billion.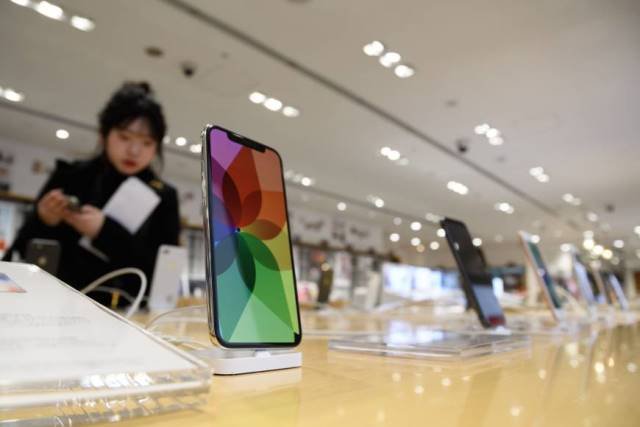 Apple CEO in a letter to investors said the main reason for the downward revision in sales is due to weak demand for iPhones in China. China economy has been dragged down by uncertainty around U.S.-China trade relations.
Huawei last week said it sold 200 million smartphones in 2018. Earlier, several analyst firms said Huawei will continue to maintain the second position in the global smartphone market – above Apple and below Samsung.
Apple is expecting revenue of $84 billion, gross margin of 38 percent, operating expenses of $8.7 billion and other income / expense of $550 million during fiscal 2019 first quarter ended on Dec 29.
Tim Cook admitted that sales of Apple Watch Series 4, iPad Pro, AirPods and MacBook Air were constrained.
Apple said drop in iPhone revenue, primarily in Greater China, accounts for all of revenue shortfall to guidance.
Categories outside of iPhone (Services, Mac, iPad, Wearables/Home/Accessories) combined will grow almost 19 percent.
Greater China and other emerging markets accounted for the majority of the drop in iPhone revenue, while iPhone upgrades were not strong in some developed markets.
Apple Services generated over $10.8 billion in revenue during the quarter. Wearables grew by almost 50 percent.
"We expect to set revenue records in developed countries such as the United States, Canada, Germany, Italy, Spain, the Netherlands and Korea. We saw challenges in emerging markets including Mexico, Poland, Malaysia and Vietnam," Tim Cook said.
"While we anticipated some challenges in key emerging markets, we did not foresee the magnitude of the economic deceleration, particularly in Greater China. Most of our revenue shortfall to our guidance, and over 100 percent of our worldwide revenue decline, occurred in Greater China across iPhone, Mac and iPad," Tim Cook said.
Wednesday was the first time that Apple issued a warning on its revenue guidance ahead of releasing quarterly results since the iPhone was launched in 2007.
In November, the Cupertino, California-based company said it would quit disclosing unit sales data for iPhones and other hardware items, leading many analysts to worry that a drop in iPhone sales was coming.
Several iPhone component makers in November forecast weaker-than-expected sales.
In November, Tim Cook cited slowing growth in emerging markets such as Brazil, India and Russia for a lower-than-anticipated sales estimate for the company's fiscal first quarter. But Cook specifically said he "would not put China in that category" of countries with troubled growth.
In the latest fiscal year, ended Sept. 29, unit sales of the iPhone were essentially flat from the prior year, while iPhone revenue expanded 18 percent to $166.7 billion. That growth came entirely from higher prices.