Telecom Lead America: Finally the iPhone 5 is off wraps. It's thinner, taller, smarter and faster with LTE support.
Apple chief executive Tim Cook unveiled the latest smartphone that surpasses the capabilities of the currently available smartphones in the world. iPhone 5 features a totally new A6 processor with twice as fast CPU and twice as fast graphics, a new 720p front camera, a larger and better 4-inch screen with a higher resolution.
iPhone 5 supports 4G LTE, offering faster downloads and video streaming. LTE wireless technology is built for speed, but adding it to a phone can create bulk and drain battery life quickly. iPhone 5 is optimized for better battery life and designed for ultrafast connectivity in a thin profile.
Apple iPhone 5 supports more networks all over the world. That includes advanced networks such as HSPA, HSPA+, and DC-HSDPA. Browse, download, and stream content at ultrafast speeds. Dual-band 802.11n wireless connectivity accelerates your Wi-Fi experience, too — up to 150 Mbps.
The new iPhone features a taller screen but has a slimmer design. With 7.6 mm thickness, it is 20 percent lighter and 18 percent thinner than the previous design. It has better battery life and is also 20 percent lighter – weighs just 112 grams.
Apple engineers worked hard to make iPhone thinner. They created a nano-SIM card, which is 44 percent smaller than a micro-SIM. They also developed a unique cellular solution for iPhone 5. The conventional approach to building LTE into a world phone uses two chips — one for voice, one for data. On iPhone 5, both are on a single chip. The intelligent, reversible Lightning connector is 80 percent smaller than the 30-pin connector. The 8MP iSight camera has even more features — like panorama and dynamic low-light mode — yet it's 20 percent smaller. And the new A6 chip is up to 2x faster than the A5 chip but 22 percent smaller. Even with so much inside, iPhone 5 is 20 percent lighter and 18 percent thinner than iPhone 4S, Apple said in its official website.
Now comes the crystal shine body: The back of iPhone 5 is made of anodized 6000 series aluminum — the same material used in Apple notebooks — with inlays along the top and bottom made of ceramic glass (on the white and silver model) or pigmented glass (on the black and slate model). Although the surface of the iSight camera is as clear as glass, it's not made of glass. It's actually sapphire crystal, whose hardness is second only to diamond on the scale of transparent materials. That means the surface of the lens is far less likely to scratch.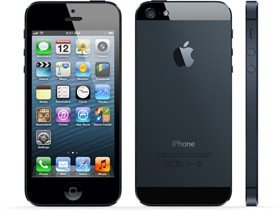 iPhone 5 has a larger Retina display. At 326 pixels per inch, it has a pixel density so high your eye can't distinguish individual pixels. And as stunning as the Retina display is on the iPhone 4S, this one gives you 18 percent more pixels for an impressive 1136-by-640 resolution. Colors get a boost, too, with color saturation that's 44 percent greater than before, Apple website said.
Apple Earbuds are created after studying the geometry of ear, which makes them more comfortable for more people than any other earbud-style headphones. Apple EarPods provide stronger protection from sweat and water, and they're remarkably stable in the ear. Which means they stay in, even when you're on the go.
The smartphone features a new smaller Lightning connector for smarter connectivity. With the new A6 chip, just about everything you do on iPhone 5 is noticeably faster — up to twice as fast compared with the A5 chip. The A6 chip also offers graphics performance that's up to twice as fast as the A5, ideal for graphics, intensive apps and games.
iPhone 5 has more than enough battery power to last throughout the day — up to 8 hours of browsing on a cellular connection, up to 8 hours of talk time, and up to 10 hours of video playback time
Major disappointment to iPhone fans however is that there are no NFC and wireless charging though many expected that.
Interestingly iPhone 5 is offered at the same price as the 4S – $199 for 16GB. $299 for 32GB, $399 for 64GB.
The iPhone 5 will be on sales in a week or two, sources said.
The new iPhone is expected to fuel competition in smartphone market.
Will Apple iPhone 5 launch propel smartphone growth?
Experts believe iPhone 5 will propel smartphone growth. Research firm IHS recently said the arrival of the iPhone 5 will spur a rebound in Apple's smartphone shipments in the third and fourth quarters following a decline in the second quarter.
Apple has a task to beat its rivals in both fronts — platform and device. iPhone faces competition from Google Android and Samsung. While Google Android is rated as the most popular smartphone platform, Samsung leads in smartphone sales.
The recent patent war between Apple and Samsung has favored Apple as the Korean smartphone was asked to withdraw the products under dispute from the American market.
However, the iPhone maker faces a new competition from the Microsoft-Nokia partnership. Nokia recently launched Nokia Lumia 920 and 820, the first devices based on Microsoft Windows Phone 8 platform from Nokia. With these phones, Nokia introduced its new Windows based smartphone OS ditching its Symbian OS.
Will the smarter iPhone 5 break previous records? Wait and see..