Intel has revealed a tough 2019 as it is expected to achieve almost flat revenue growth during the year amid strong signs of a slowdown in China.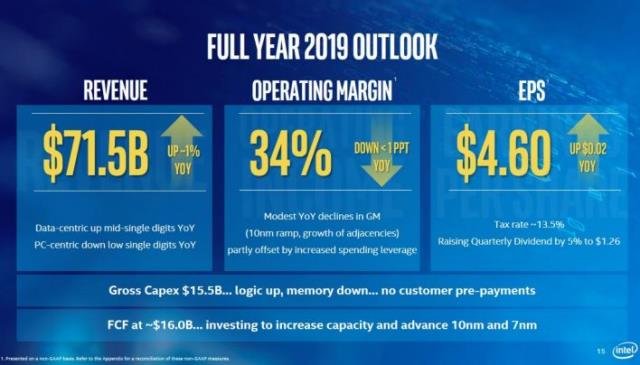 The US-based Intel, which powers connected devices and data centers, said its revenue will reach $71.5 billion with 1 percent growth in 2019 and $16 billion without any growth in Q1 2019.
The global ICT industry is expecting a business slowdown after sales warnings from Apple, Samsung Electronics and Taiwan Semiconductor earlier this month. But Texas Instruments, Xilinx and Lam Research reported better-than-expected quarterly results. Intel rivals AMD and Nvidia are also likely to face business challenges.
Intel Interim CEO Bob Swan said in an analyst call data center providers tend to make large purchases in spurts and then spend time "digesting" the chips as they build out their centers.
Sales in China fell because some buyers there – especially cloud computing vendors – seem to have bought chips earlier than usual last year because of fears about US-China trade tensions, Swan said.
Intel became the sole provider in 2018 of iPhone modems, which connect phones to wireless data networks. As a result, Intel's modem business grew by 60 percent over last year to about $200 million.


Intel posted revenue of $18.7 billion (+9 percent) in Q4 2018 and $70.8 billion (+13 percent) in 2018.
Intel has generated revenue of $6.07 billion (+9 percent) from the higher-margin data center business in Q4 2018. The 9 percent growth was primarily due to 1 percent increase in data center processor ASP and 9 percent increase in volumes.
Intel generated revenue of $9.82 billion (+10 percent) from the client computing business, which includes sales to PC makers. The 10 percent growth was mainly due to 6 percent increase in notebook ASP and 13 percent increase in desktop ASP.
Intel's data-centric businesses achieved 24 percent cloud segment growth and 12 percent communications service provider segment growth while enterprise revenue declined 5 percent.
Intel's Internet of Things Group (IOTG) revenue declined 7 percent to $816 million.
Intel's memory business (NSG) revenue rose 25 percent to $1.1 billion.
Intel's Programmable Solutions Group (PSG) revenue rose 8 percent to $612 million — driven by strength in the data center and communications market segments.
Mobileye revenue grew 43 percent to $183 million. Mobileye achieved 28 new design wins and 78 vehicle model launches in 2018.
Baburajan K