A Strategy Analytics report said revenue generation for telecom operators from 5G network deployments is less certain and there is potential for disruption.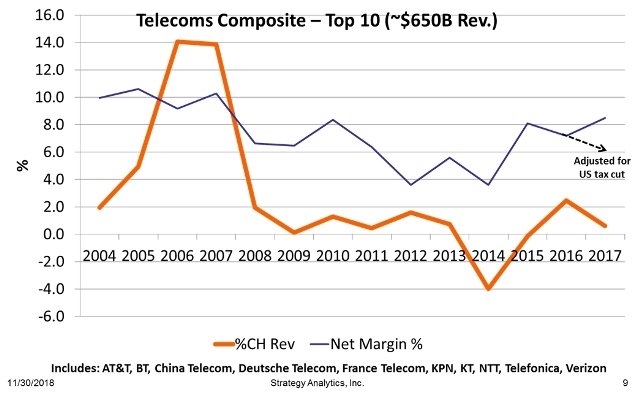 The challenge for 5G in lifting operator performance in a competitive telecoms and media environment where household expenditure and commercial willingness to pay or invest in ICT are flat, Strategy Analytics report on "Can 5G Slow Operator Profit Erosion?" said on Monday.
Benefits from 5G in terms of capacity and network efficiencies are compelling. 5G's new service attributes may enable new service value propositions but cannot create significant new revenues.
The latest GSA report said 17 countries have announced plans to auction 5G spectrum between 2018 and 2020. 13 countries have planned spectrum allocations in bands that can potentially be used for 5G.
5G strategies
# Behavioral segmentation to identify actionable market segments
# Improved brand positioning to create differentiated emotional themes
# Focus on innovative value propositions
# Identify segment-specific requirements and willingness-to-pay
Harvey Cohen of Strategy Analytics said the revenue for 5G operators will be predictably below average due to the increasing commoditization of the market if the service portfolio is offered without value proposition differentiation.
The core issue for 5G service providers will be whether they can overcome or aggravate the industry structure and competitive forces that are inherent in the regulated telecoms industry after making investment in 5G networks.
David Kerr of Strategy Analytics said competition drove prices down faster than the growth in GBs as operators transformed their networks to video-capable 4G and pushed their fixed broadband towards gigabit speeds.
Phil Kendall of Strategy Analytics said regulatory intent to pass on cost improvements in networks to consumers appears to control the ability for networks to achieve a return on sales of much greater than 6 percent on a sustained basis.
The global 5G equipment market is expected to post a CAGR of 71 percent during the period 2019-2023, according to research agency Technavio.
The report said the 5G equipment market size will grow by over $16.3 billion during 2019-2023. Leading 5G equipment manufacturers are Huawei Technologies, Nokia, Samsung Electronics, Ericsson, and ZTE.
Guang Yang in another Strategy Analytics report said: "Operators need to consider new strategies for network coverage in order to accelerate 5G rollout and manage their Capex spending.
"Network deployment models such as active sharing, neutral host, WOAN, crowdsourcing capacity, etc. would help to accelerate 5G rollout and eventually benefit the mobile industry," Guang Yang said.
Research firm TBR estimates that over 85 percent of 5G Capex spend through 2020 will be driven by operators in four countries: the U.S., China, Japan and South Korea.
"Most Tier 1 operators in these countries have aggressive 5G rollout timetables and intend to leverage the technology for fixed wireless broadband and/or to support their mobile broadband densification initiatives," said TBR Telecom Senior Analyst Chris Antlitz.
Baburajan K