Telecom Lead India:
, a provider of in digital multimedia technology, today announced the availability of the AVerCaster Combo (F236), a cost-effective TV and video streaming solution designed for the small- and medium-sized enterprises.
Built on the multicast technology of the AVerCaster series, the AVerCaster Combo can stream live TV and various video contents to unlimited devices on a LAN environment, so it eliminates the need for broadcasting equipments in traditional coaxial cable or aerial based TV/video distribution systems.
Marketed as a seamless and high ROI solution for maximum audience reach, the AVerCaster Combo is designed for lectures broadcasting in schools and corporations, as well as advertising and entertainment distribution in stations, restaurants, shopping malls, hospitals or fitness centers.
With multiple client device support, easy installation and intuitive Web-based content control interface, the device allows fast project-go-live by reducing deployment time and operation complexity. The AVerCaster Combo is equipped with high image quality and AVerMedia's quality technical support to ensure the best practice.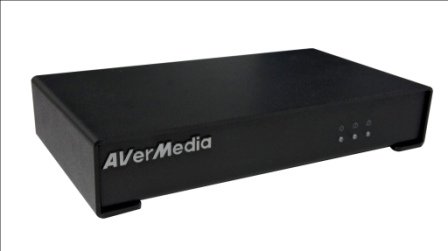 AVerCaster Combo is the most cost-effective solution for media streaming because of its vast audience reach, multiple content offering and high client device compatibility, the company said. Thanks to the multicast feature, the AVerCaster Combo can distribute high-definition digital TV, analog TV and various video contents to an unlimited number of users over the same network.
Each AVerCaster Combo unit could be configured to broadcast 2 different TV/video sources and even multiple digital TV programs from a MPTS at the same time.
AVerCaster Combo also supports many different client devices, including Windows, Mac and Linux computers, as well as IP STB, kiosk, digital signage and infotainment media. Therefore, it can be easily and quickly applied in different fields.
The AVerCaster Combo adopts intuitive Web management interface for content management, which can be easily accessed from any PC connected to the local network. Its SNMP support further facilitates head-end monitoring. The device is easy to set up and carry around, which provides a flexible and scalable solution for TV/video distribution over LAN.